Detroit Lions beat New York Yankees 3-0 to lead the AL Championship series 2-0
Last Updated: October 16, 2012 10:52am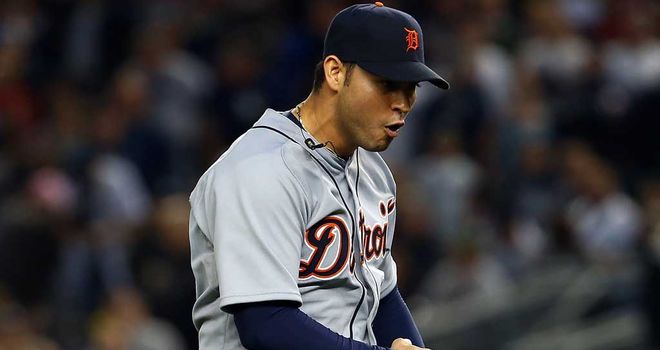 The Detroit Tigers claimed a 3-0 away victory over the New York Yankees to take a 2-0 lead in the best-of-seven American League Championship Series.
Venezuelan right-hander Anibal Sanchez hurled seven shutout innings for the Tigers, surrendering only three hits while walking three and striking out seven against a Yankees line-up that was without injured captain Derek Jeter.
The game turned on a botched pick-off call by second base umpire Jeff Nelson that allowed Detroit to stretch a one-run lead to 3-0 in the eighth inning.
Omar Infante singled and took second on an Austin Jackson single, but only after overrunning the base and diving to get back.
New York Yankees second baseman Robinson Cano tagged him before he reached the base but Nelson ruled Infante safe, denying the Yankees an inning-ending out.
Instead, Infante scored on a single by pinch-hitter Avisail Garcia and Miguel Cabrera singled to send in Jackson, extending Detroit's advantage.
Sanchez said: "I took it inning by inning, hitter by hitter. I feel good. The team helped me. It was a good game for me and for the team. We need to keep winning. The Yankees are a good team. We can't give them anything."