Chasing legend Kauto Star retired
National Hunt legend retired after distinguished career
Last Updated: October 31, 2012 2:17pm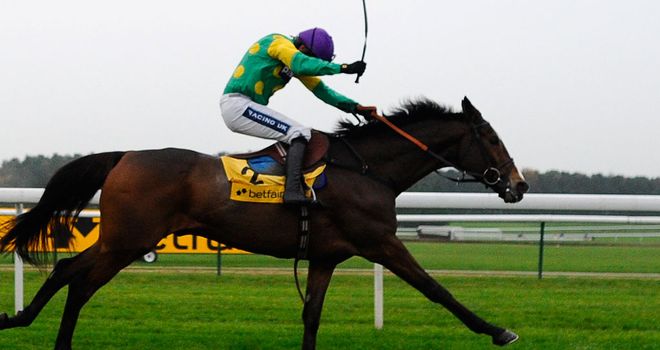 Paul Nicholls has confirmed that Kauto Star, the five-time King George VI Chase winner, has been retired after a remarkable career.
Writing in his exclusive column at www.betfair.com/paulnicholls the champion trainer said on Wednesday: "The end of an era has finally arrived. Clive (Smith) was here this morning and we have taken the decision to retire Kauto Star.
"We have had nine superb years with the horse but, after seeing him in his work these past few weeks, myself, Clifford and Dan were of the opinion that the time had arrived to retire him.
"Of course, as owner, the final decision rested with Clive, but he agreed that the horse had done enough.
Mad Fresh
"Don't get me wrong, Kauto looks and feels as vibrant as ever, as those who saw him at our owners' Open Day last month would testify to. He was mad fresh that day and continues to be as alert as ever and very, very well in himself. But I suspect Kauto will be like that when he is 20-years-old.
"And, deep down, we know he has done enough - and in some ways I think we have to protect him from himself. And maybe ourselves, too. If he did go to Kempton and win or run well, would you really want to run him - or be able to resist the temptation - in the Gold Cup?
"I am not so sure.
"Kauto is signing off in full health and after a season in which he proved so many people wrong by winning a fifth King George and a fourth Betfair Chase, to add to his two Cheltenham Gold Cups and Tingle Creeks."
Kauto Star has been a remarkable servant to connections and the best chaser seen in Britain for many years.
His list of achievements include becoming the first horse to regain the Cheltenham Gold Cup crown.
Good Days
The jockey most synonymous with Kauto Star was Ruby Walsh, who partnered the French import to 17 victories, including his Gold Cup triumphs and his five wins in the King George.
He said: "He's the horse of my lifetime. I'm very lucky to be the one who got to ride him.
"He was an incredible horse from the beginning, from when he won his novice chase in Newbury all the way to his fifth King George.
"He's got me to places I didn't think I'd ever be. He was just an incredible horse.
"A couple of Gold Cups, Betfair Chases, five King Georges, Tingle Creeks - he did everything.
"He was an amazing horse to ride and an amazing horse to be part of and I loved every minute of riding him.
"I remember going to Newbury to ride him (on his first run in Britain) and thinking, 'This is half an Arkle'.
"Paul said he was a nice horse and he came down the straight with his head in his chest.
"I had so much horse underneath me and from that day I was in love with him.
"He had a few knocks and a few setbacks but he was always an exceptional horse and a tough horse.
"He came back from hard races and heavy falls. He just kept coming back and getting back up to Grade One level again.
"He was a little indecisive (when jumping), so you always then had to be decisive. I have some amazing memories, so many good days.
"He was a wonderful horse to be riding and a wonderful horse to have in your life," he told Racing UK.
Two Terrific Wins
Owner Clive Smith told Press Association Sport: "It's always been in the back of my mind this summer that we should retire him and I'm pleased that now we have made a final decision."
"We could have retired him a year ago. A lot of people said then he should be retired, but he came back with those terrific two wins.
"Then he had the schooling accident at home and, obviously, wasn't able to show his best in the Gold Cup.
"We thought about whether we wanted him to go out like that and we gave him the summer off in the paddock as normal and decided we'd give him two months training to see how he would react.
"That brought us to the end of October, where we are now, and the decision has been made to call it a day."
"He's had a fantastic career and it's great that he's been able to retire safe and sound," added Smith.
Kempton Parade
"It's been lovely to have him, I've been very lucky to have had him.
"It's very difficult to pick out highlights as he's won 16 Grade Ones and every one of them has been a real delight.
"His comeback in the Betfair Chase last year was a bit special. It was such an exciting day, he got such a great reception from the crowd.
"Then he went and won a fifth King George and you are getting to the stage where it is beyond belief.
"But it is very hard to look past Gold Cups. He won two and you can't get away from that.
"I've spoken to a few people about what he'll do in the future, but for now he'll stay at Paul's yard.
"I think he'll go to Kempton to parade on Boxing Day."