NBA: LeBron James and Miami Heat down Memphis Grizzlies for 13th straight win
Last Updated: 02/03/13 9:02am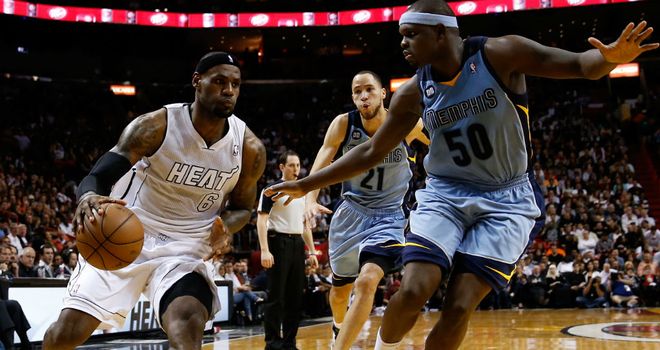 LeBron James (L): Hit important late three-pointer to help Heat to victory
LeBron James rescued one of his worst shooting performance of the season by hitting a key three-pointer late on as the Miami Heat beat the Memphis Grizzlies 98-91.
James scored 18 points and shot just four for 14 from the field, but added 10 assists and eight rebounds as the Heat extended their winning streak to 13 games.
Dwyane Wade scored 22 points at AmericanAirlines Arena as Miami maintained their firm grip at the top of the Eastern Conference.
Elsewhere, Wilson Chandler came off the bench to tie a career-high of 35 points as the Denver Nuggets claimed a 105-103 success over the high-flying Oklahoma City Thunder, for whom Russell Westbrook scored 38 points. Ty Lawson's jumper with 0.2 seconds left secured the win.
The San Antonio Spurs lost star point guard Tony Parker to an ankle injury in the third quarter but still managed to secure a comfortable 130-102 win over the Sacremento Kings.
Paul Pierce led the way with 26 points as the Boston Celtics defeated the Golden State Warriors 94-86, with Stephen Curry scoring 25 in a losing effort, including 10 of 10 from the free-throw line.
The Los Angeles Clippers won for the first time in Cleveland since 2002, Chris Paul dishing out 15 assists in a 105-89 win over the Cavaliers.
Carmelo Anthony notched 30 points as the New York Knicks saw off the Washington Wizards 96-88, while the Indiana Pacers defeated the Toronto Raptors 93-81.
Turkish centre Enes Kanter had career highs of 23 points and 22 rebounds as the Utah Jazz thrashed the Charlotte Bobcats 98-68.
There were also wins for the Houston Rockets, Dallas Mavericks, New Orleans Hornets and Phoenix Suns on Friday night.