NFL news: Atlanta Falcons new stadium on track after agreement over finances
By Paul Higham Twitter: @SkySportsPaulH. Last Updated: March 8, 2013 7:58pm
American Football Betting

American Football Betting

£10 Free Bet
The Atlanta Falcons have moved a step closer to finalising the financing plan with the city's Mayor to build a new $1 billion stadium to replace the 20-year-old Georgia Dome.
Mayor Kasim Reed says the city of Atlanta will offer $200 million in funding towards the new retractable roof venue, with owner Arthur Blank stumping up the remaining $800m
The final deal is not yet complete, but it is now assured that the Falcons will stay in downtown Atlanta and not move out to the suburbs - with the new stadium set to be built within the shadow of their current Georgia Dome home.
Extra funds would need to be supplied for infrastructure and regeneration of the surrounding area, while there is still some property that needs to be purchased for the Falcons to get their first-choice location immediate south of the Georgia Dome.
A second site further north of the current venue would be the secondary choice - with the Georgia Dome then being demolished as soon as the new stadium opened its doors to the Falcons.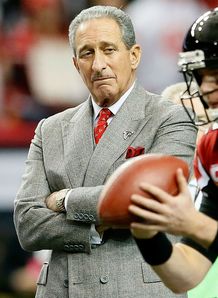 Falcons owner Arthur Blank watches over Matt Ryan
"It's been a long journey, and it's been a very successful journey," Blank said. "We're thrilled to be here. We're thrilled to be a partner. And we're thrilled go through the final approvals that we need and actually start the fun part of this, which will be designing and building this stadium, this world-class facility."
Blank added that building a new stadium with the help of some public funds would also give the city the chance to be in the running to stage a future Super Bowl.
"That's the only secret ballot in the NFL," he said. "We'll have to earn it. But this public support is an important piece."
Mayor Reed also sees the new stadium as being only of benefit to his city, with the public funds coming from the hotel and motel tax gathered throughout the city.
"A new stadium will lead to the creation of well-paying jobs during its construction at a time when many of our friends and neighbours are seeking employment," Reed said.
"This new stadium will also keep the city of Atlanta at the forefront of the hospitality industry in America as we pursue our goal of attracting 40 million visitors annually.
"It will strengthen the viability of the more than 200,000 jobs that support our tourism and convention business every single day."
The Falcons have been steadily improving under Blank's reign and this last season they came agonisingly close to the Super Bowl after ending as the NFC's top seed.