NBA: Triple double from LeBron James seals Miami Heat fightback
Last Updated: March 21, 2013 8:52am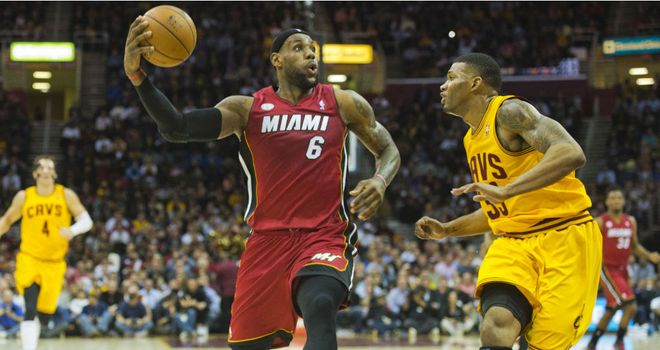 The Miami Heat battled back from the brink to record a 98-95 victory over the Cleveland Cavaliers - their 24th successive win this season.
The defending champions had trailed 67-40 but with LeBron James again pulling the strings they responded in emphatic fashion. James finished with 25 points, 12 rebounds and 10 assists.
The San Antonio Spurs continue to keep the pressure on the Heat with a 104-93 triumph over the Golden State Warriors.
Tim Duncan top-scored with 25 points as the Spurs improved to 52-16, the league's second best record behind Miami (53-14).
Brook Lopez scored 38 points and Deron Williams added 31 to help the Brooklyn Nets prevailed 113-96 against the Dallas Mavericks.
Overtime
JR Smith poured in 22 points and the fit-again Carmelo Anthony contributed 21 to lift the New York Knicks to a 106-94 success against the Orlando Magic.
Marc Gasol's tip-in in the final second of overtime secured a 90-89 victory for the Memphis Grizzlies against the Oklahoma City Thunder, while James Harden scored 29 points as the Houston Rockets boosted their play-off hopes by toppling the Utah Jazz 100-93.
The New Orleans Hornets snapped a four-game losing run with an 87-86 win against the Boston Celtics, a last-gasp tip-in from rookie Anthony Davis proving decisive.
Jeff Teague's 27 points led the Atlanta Hawks to a 98-90 win against the Milwaukee Bucks, while Byron Mullens' 25 points helped the Charlotte Bobcats achieve back-to-back victories by overcoming the Toronto Raptors 107-101.
The Los Angeles Clippers thrashed Philadelphia 101-72, Chris Paul's 19 points helping condemn the 76ers to a 14th straight road loss, and the Washington Wizards triumphed 88-79 against the Phoenix Suns.