NASCAR: Jimmie Johnson to start from pole in Sunday's Nascar Virginia 500
Last Updated: 07/04/13 10:36am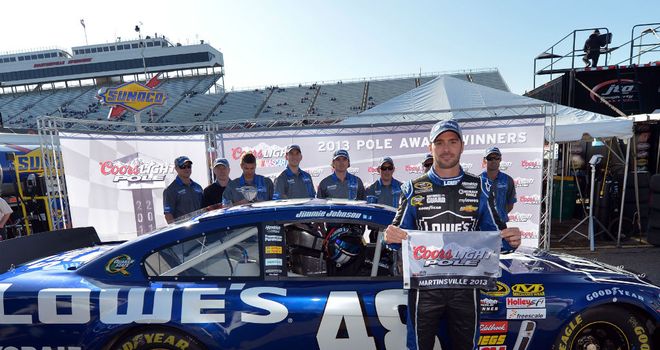 Jimmie Johnson: Celebrates his pole at Martinsville Speedway
Jimmie Johnson will start from pole in Sunday's Nascar Virginia 500 at Martinsville Speedway.
The five-time NASCAR champion produced a fastest lap around the 0.526-mile oval at 98.400mph - eclipsing the previous track record of 98.083 set by Tony Stewart.
Johnson will now be aiming for his second consecutive victory in Martinsville and a record eighth overall at the venue.
He secured the 30th pole of his career by finishing ahead of Marcos Ambrose who clocked a speed of 98.364mph.
Ambrose was followed on the grid Brian Vickers, Joey Logano, Kasey Kahne and Jeff Gordon.
"That's icing on the cake," Johnson said of his record time. "Track records are hard to come by. The first lap, I knew we'd have a great shot at it. I just had to do my job and not mess up."