Court rules that Keith Mason was unlawfully axed by Huddersfield
Last Updated: 17/07/13 11:10pm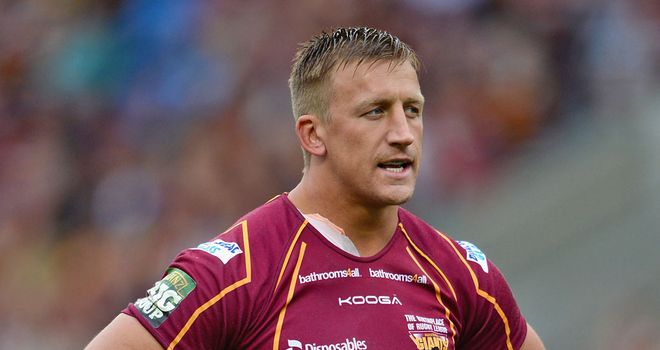 A High Court judge has ruled that prop Keith Mason was unlawfully dismissed by Huddersfield Giants after a photo of a team-mate's bottom appeared on his Twitter account.
Mason, who now plays for Castleford Tigers, will receive around £167,000 in damages from Huddersfield after his former club ended his £95,000 a-year salary last October, just one year into his four-year contract.
The picture was found on his iPhone by his girlfriend, Lauren Harwood, after the players returned from a drinking binge last September known in rugby league circles as Mad Monday - the day when players celebrate the end of the season.
She posted on his Twitter account - which attracted 4,200 followers - with the message "what the hell is this?" and it remained for around two days before Mason deleted it, the court heard.
Values
Huddersfield claimed the 31-year-old committed gross misconduct by not deleting it quickly enough and took severe action following complaints from supporters and sponsors.
They told Mason: "The Giants players are role models for those who support the club and new supporters", and said his actions were completely at odds with the family values it promotes.
Mason challenged the decision but his appeal was turned down by his club.
Backed by his friend, boxing world champion Joe Calzaghe, who attended the court proceedings on Monday, Mason's lawyers argued he was "tainted by dismissal", which was unlawful, and his potential earnings had dropped by tens of thousands of pounds.
The player also said he thought the timing of his sacking was suspect, as several new prop-forwards had been signed over the summer.
He claimed he had been given the push to free up space in the salary cap for the new players - an accusation his former club flatly denied.
But the judge, His Honour Mr Justice Saffman, said there was "clear evidence" the Giants wanted Mason off their books, including emails outlining lucrative transfers to coax the prop away from his team.
He ruled that Mason's actions could not be construed as breach of contract, and as a result his dismissal was wrong.
Reflecting on the Twitter incident, he said Mason was seriously hungover following a Mad Monday "communal bender" but did eventually react when he realised the photo was online and deleted it.
Happy
It was clearly a personal account which Mason used outside the workplace, he said, adding: "The fact is that when the error of his ways was pointed out to him, he sought to correct it.
"When all is said and done, the claimant was employed as a rugby player.
"I'm not convinced that this tweet can be seen to be inextricably linked to the club.
"I think it's very unlikely that any fan seeing this tweet... would assume that this tweet is condoned by the club.
"I therefore have no difficulty in finding that the claimant has established, on balance, that this was a wrongful dismissal."
Speaking after the hearing, Mason said: "I was happy I can draw a line under it in my life and justice has been served.
"I'm really happy with my family support and friends and I can put it behind me now."
Mr Justice Saffman said the sum of £167,000 reflected loss of Mason's actual and projected earnings.
He said the legal costs of £35,000 for the three-day hearing will also be passed on to the club.
Terms of the damage payment will be discussed at a further hearing, at a date yet to be set.