Rocky Fielding will defend his English title against veteran Tony Dodson next month
Last Updated: 09/08/13 12:03pm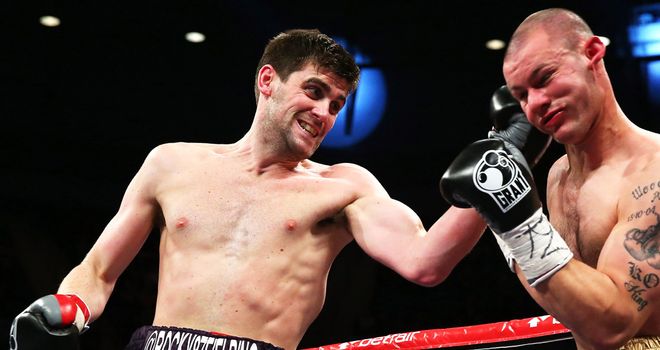 Rocky Fielding will defend his English title against fellow Liverpudlian Tony Dodson as part of a bumper Merseyside bill on September 21.
The unbeaten Fielding makes the second defence of his super-middleweight belt against Dodson at the Liverpool Olympia.
Dodson suffered a stoppage defeat to Paul Smith in June, but he is a former British champion and should prove a step up in class for Fielding.
"It is going to be a good fight, I have done plenty of rounds of sparring with Tony and I know how to go about him."
Rocky Fielding
A fight against Smith, another Liverpool rival who holds the British belt, is a future aim for Fielding, although the 26-year-old knows he must first defeat Dodson in impressive fashion.
"This is definitely going to be one of the toughest fights I have had so far," said Fielding.
"It is going to be a good fight, I have done plenty of rounds of sparring with Tony and I know how to go about him. I will stick to my boxing and look good and send a bit of a statement out that I am ready for the next step. It will be a good fight while it lasts but I am confident I will come away with the win.
"This fight will show where I am in my career, a good performance and a good win and I will see how far away I am from a bigger title and from facing Smith. I have to get this fight out of the way and put on a good performance."
Respect
Fielding trained alongside Dodson while learning his trade in the professional ranks and holds his 33-year-old opponent in high regard.
He insists there will be no bad blood in the build-up and has told his hometown fans to expect an exciting contest.
"I used to meet him in a pub car park and we would drive up to the gym together and train and spar together," said Fielding.
"I have a lot of respect for him. There will be nothing over Twitter, no slagging him off. I always watched Tony throughout his career and always wanted to share a ring with him.
"It is a big fight for Liverpool, the phone hasn't stopped since it got announced. The city of Liverpool is a proper boxing city, people get behind the boxing and the Scouse lads and this is two Scouse lads fighting each other.
"It is an early Christmas present for them because they can sit back and watch two Scousers have it with each other. Fans in Liverpool are in for a good show."
Another Merseysider, Derry Mathews, will defend his Commonwealth lightweight title against Curtis Woodhouse at the top of the bill.