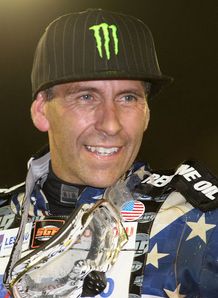 I'm just getting comfortable and feeling at one with my bike. It has been getting better week after week and I feel I'm back on track.
Greg Hancock
Quotes of the week
Also see
Greg Hancock held off the challenge of Australian Darcy Ward and new World Championship leader Tai Woffinden to complete a hat-trick of wins in the Latvian GP.
The 43-year-old picked up his first SGP gold medal since he won last year's opening round in Auckland as he moved up to sixth place in the World Championship standings.
Hancock's season was thrown into disarray when he crashed with Troy Batchelor in a Polish meeting for Bydgoszcz in April, with the Californian knocked out cold for the first time in his career.
But he is back to his best and now trails third-placed Jaroslaw Hampel by just seven points in the title race.
"This means everything," he said. "It has been a hard year. The crash I had at Bydgoszcz knocked me back pretty big. It's hard to come back from big hits and that was one of my bigger ones over the years.
"Since then, I've taken a slow pace back up to winning ways. I feel great now and I have no problems with anything.
"I'm just getting comfortable and feeling at one with my bike. It has been getting better week after week and I feel I'm back on track.
"There are still three very, very important rounds to go that can put me back in the medal chase if all goes to plan. This is another stepping stone.
"We're going to another new venue in Stockholm on September 21, which should be interesting for everybody, so we'll see what happens there.
Woffy, Woffy, Woffy
Woffinden's third place was enough to take him of the World Championship standings on 117 points.
But the British champion expects his title rival Emil Sayfutdinov, who exited before the semis with seven points to move on to 114 overall, will still take some beating when he defends his advantage at the Slovenian Grand Prix in Krsko on 7 September.
"There are a few meetings to go yet and anything can happen in speedway," he said.
"I'll just keep fighting until the end. It's not over yet - Emil will come back.
"Emil is a quick bloke and he knows what he is doing. I'm sure he will come back fighting hard, but I'm going to maintain what I'm doing as well and it's going to be a fight to the finish.
"I'll just keep doing my bit, do my best and hopefully do everyone proud. But it's a long season.
"There are still a few meetings to go and anything could happen - I could get injured or lose it to Emil or I could win it. There are so many different things that could happen.
"I think I can do it, but anything can happen in speedway. I'm not going to sit there and say 'I'm going to be world champion this year' - then I probably won't be. I'm just keeping level-headed and doing my job."RIETUMU BANK LATVIAN SGP SCORES: 1 Greg Hancock 18, 2 Darcy Ward 13, 3 Tai Woffinden 15, 4 Nicki Pedersen 11, 5 Niels-Kristian Iversen 13, 6 Jaroslaw Hampel 11, 7 Matej Zagar 9, 8 Andzejs Lebedevs 9, 9 Martin Vaculik 7, 10 Emil Sayfutdinov 7, 11 Andreas Jonsson 7, 12 Tomasz Gollob 5, 13 Leon Madsen 5, 14 Fredrik Lindgren 4, 15 Krzysztof Kasprzak 3, 16 Antonio Lindback 1, 17 Vjaceslavs Giruckis 0, 18 Maksims Bogdanovs DNR.
WORLD CHAMPIONSHIP STANDINGS: 1 Tai Woffinden 117, 2 Emil Sayfutdinov 114, 3 Jaroslaw Hampel 96, 4 Nicki Pedersen 94, 5 Niels-Kristian Iversen 90, 6 Greg Hancock 89, 7 Matej Zagar 84, 8 Chris Holder 82, 9 Tomasz Gollob 73, 10 Darcy Ward 68, 11 Fredrik Lindgren 65, 12 Krzysztof Kasprzak 62, 13 Martin Vaculik 51, 14 Andreas Jonsson 46, 15 Antonio Lindback 35, 16 Leon Madsen 13, 17 Ales Dryml 11, 18 Andzejs Lebedevs 9, 19 Chris Harris 7, 20 Krzysztof Buczkowski 6, 21 Linus Sundstrom 6, 22 Bartosz Zmarzlik 6, 23 Michael Jepsen Jensen 6, 24 Josef Franc 2, 25 Peter Kildemand 2, 26 Kenni Larsen 2, 27 Nicolas Covatti 2, 28 Jason Bunyan 1, 29 Craig Cook 1, 30 Josh Auty 1.
Sky Bet Odds:
Click Here for Your Free Bet