MLB: St Louis Cardinals win National League Central; wildcard race heating up
Last Updated: September 28, 2013 7:34am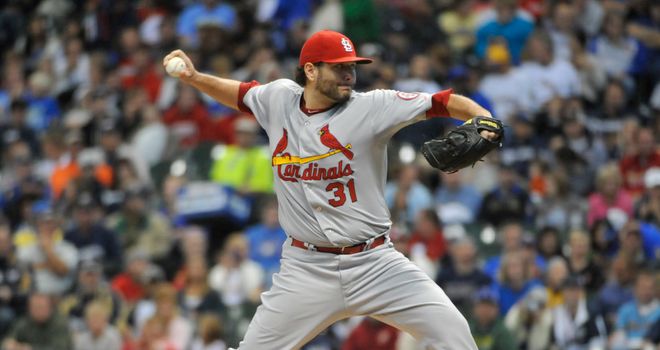 St Louis Cardinals wrapped up the National League Central title in fine fashion, thrashing the Chicago Cubs 7-0.
Lance Lynn fanned nine batters in six scoreless innings to claim his 15th win of the season, while David Freese and Matt Holliday contributed solo home runs.
Yadier Molina drove in three on a pair of hits for the Cards, who now are sitting comfortably with a three-game lead over the Pittsburgh Pirates with just two to play.
The Pirates beat the Cincinnati Reds 4-1 on the back of a stellar performance from AJ Burnett to move within a game of of securing home-field advantage when the two meet again in the wildcard game.
Burnett threw eight innings, striking out six and walking just one.
Meanwhile, the Atlanta Braves keep pace with the Cards in the battle to post the National League's best record by narrowly beating the Philadelphia Phillies 1-0.
Chris Johnson's solo shot in the eighth off the unfortunate Cliff Lee was the only run in a pitching duel that saw Kris Medlen complete eight scoreless innings for the Braves.
Tightened up
In the American League, the wildcard race tightened up as the Tampa Bay Rays lost 6-3 to the Toronto Blue Jays while Cleveland and Texas both won.
Ben Zobrist and Delmon Young both homered for the Blue Jays, allowing the Indians to pull level with Rays as they beat the Minnesota Twins 12-6.
Alex Rios and AJ Pierzynski both played key roles with the bat to help the Rangers defeat the Los Angeles Angels 5-3, leaving them one game back of a wildcard berth.
Daniel Nava, David Ortiz and Jonny Gomes helped the Boston Red Sox beat the Baltimore Orioles 12-3 to edge closer to securing the American League's best record.
The Oakland Athletics overcame the Seattle Mariners 8-2, meaning the Red Sox have to wait a little longer to secure the honour just yet.
There were also wins for the Miami Marlins, the Milwaukee Brewers, the Kansas City Royals, the New York Yankees, the Washington Nationals, the Los Angeles Dodgers and the San Francisco Giants.