Premier League: Aston Villa manager Paul Lambert has confidence in Christian Benteke
Last Updated: 03/12/13 3:59pm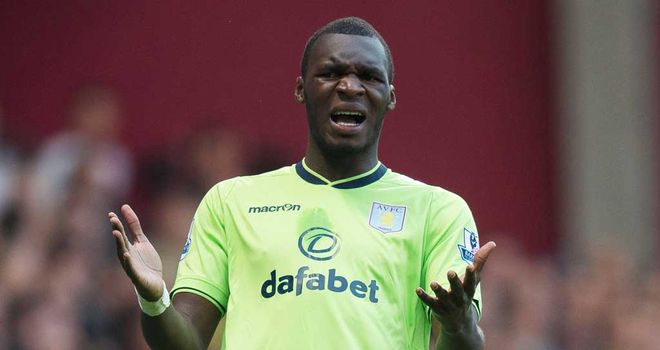 Aston Villa manager Paul Lambert has rubbished suggestions struggling striker Christian Benteke has lost his touch.
The Belgium star, who turned 23 this week, has failed to recapture his form of last year, when he notched 23 goals in all competitions - but Lambert retains faith in his star player.
The Scot said ahead of Wednesday's trip to Southampton: "I'm pretty sure Christian's a victim of his own success but he's created that himself.
"There's nobody he can blame for that other than himself because he set a really high standard for himself and when you fall below it, that's what can happen.
"The challenge is for him to bounce back from that. People forget how old he is, they think he's been around for years. I'm pretty sure he'll come back from it.
"I think the fact he hasn't scored for a while will affect him but that's normal. I was fortunate enough to play with some world-class strikers and I saw them having little barren spells.
"Everybody comes through it and Christian is the same. He just needs a goal to set himself back on that road."
On question marks over Benteke's attitude of late, Lambert added: "It makes me laugh when people talk about 'body language.' How do you read somebody's body language? Do people go to a game and just study somebody's movement?
"He's had a little bit of a spell where he's not scoring and not playing as well as he has previously, but the thing with Christian is he set himself a really high standard last season, incredibly high, to the extent where people in the media were talking about the fact he was only behind Lionel Messi and Cristiano Ronaldo in the European scoring charts for the calendar year.
"His standard was really high and when you fall below that with just a little blip it can be blown up into 'he's having an absolute nightmare', so you've got to watch it."