Premier League: Everton boss Roberto Martinez seeks positive approach
Last Updated: 04/12/13 6:56pm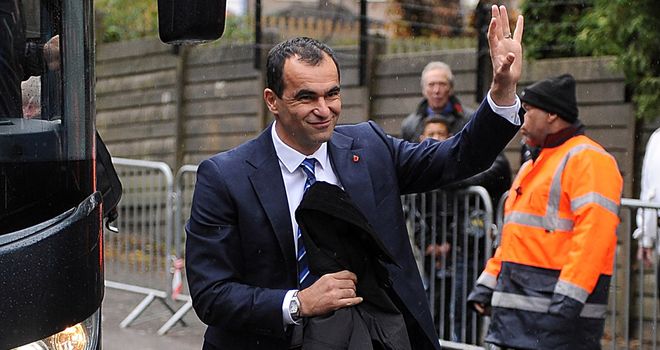 Everton manager Roberto Martinez is keen for his players not to be overawed when they take on Manchester United and Arsenal in the coming week.
The Spaniard takes his side to Old Trafford on Wednesday and the Emirates on Sunday in two games that will indicate how far Everton have come under his leadership.
The Merseysiders have a poor record against the country's leading clubs and have not won at Old Trafford since 1992.
But with the club fifth in the Premier League and unbeaten in their last six matches, Martinez has urged his side to approach the key games with confidence.
"If we want to do something special this season we need to break that mentality of going to the big grounds and not being able to get good wins," he said.
"If you look at the last 10 years we have never beaten Manchester United or Arsenal or Chelsea or Liverpool at their own grounds and that for us is something we need to address.
"We need to make sure we are ourselves, we need to know exactly how we are going to play and who we are.
"It doesn't matter who you are playing against or where you are playing, you need to be able to perform with great standards and that is a fantastic test and challenge to have on Wednesday.
"We have only had one defeat (at Manchester City) this season and that has given us a great confidence and a great understanding of how we need to approach every game.
"I do feel the game at Old Trafford is as big a test as we are going to get but after 13 games in the league I feel we are ready for that.
"That's our aim. I don't know how long it's going to take us but if we want to be successful over the course of the season we should be able to go anywhere and be ourselves.
"The success of a team over the course of a season is measured when you can be yourself wherever you go and whoever you face."