Rachel Yankey looking forward to working with England manager Mark Sampson
By Dev Trehan. Last Updated: 08/12/13 2:56pm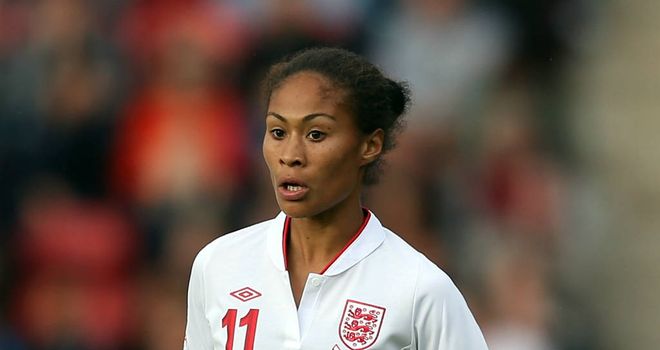 Rachel Yankey says all professional women's players in the country are looking forward to a new era for the national side after Mark Sampson was unveiled as Hope Powell's successor as England manager.
Sampson was handed a four-year contract with England after a five-year spell as Bristol Academy manager, where he led the side to second in the Women's Super League last season - their highest ever league finish.
And Yankey, one of three England regulars older than the new manager, says age is not an issue, insisting all the players are looking forward to working with the 31-year-old Welshman.
"It's fresh start and a new challenge for him and everybody else and I think it is one that all the England players will embrace," Yankey said. "We all want to play for our country and we'll all give the manager the respect he deserves and listen to him and his philosophy.
"A lot of the girls at Arsenal have played under Laura Harvey and there were a good few players who were older than her so it's nothing that we are not used to.
"At the end of the day it's about his knowledge and not his age. Gender, age, it doesn't really matter - it's his knowledge of football, his management skills, how he deals with players and how he gets the best out of players that everybody will be looking forward to."
Yankey was speaking at Wingate and Finchley's Harry Abrahams Stadium where she escorted youth team players from her grassroots football club Gibbons Wreckers on a pre-arranged visit to the Ryman Premier side.
She admitted she does not know a great deal about the man charged with improving the fortunes of the national side, but insisted she is very much looking forward to the prospect of working with him.
"I'm sure the girls in the England squad that have played under him like Siobhan Chamberlain will enlighten us a little more about what he is like," Yankey said.
"He's been the manager at Bristol Academy for the past few years and he's been instrumental in Bristol Academy winning team of the year.
"If you're the manager and your team is winning team of the year you've got to be doing something right - they've been up there every year and did really well to finish second last year to qualify for the Champions League.
"It's up to us now to train hard in pre-season - there is a pre-camp in La Manga in January which will be his first camp.
"We don't know the squad he will pick for that. Hopefully, I will be in that squad but it's up to us as players to show what we have got and adapt to his philosophy and we'll all go from there."