Mourinho's mantra
Jose Mourinho talked of "easy" 1-0 wins in December. Daniel Storey watched a victory over Everton that was nothing of the sort at Stamford Bridge, but we are now at a time when result is king...
By Daniel Storey - @danielstorey85. Last Updated: 22/02/14 9:00pm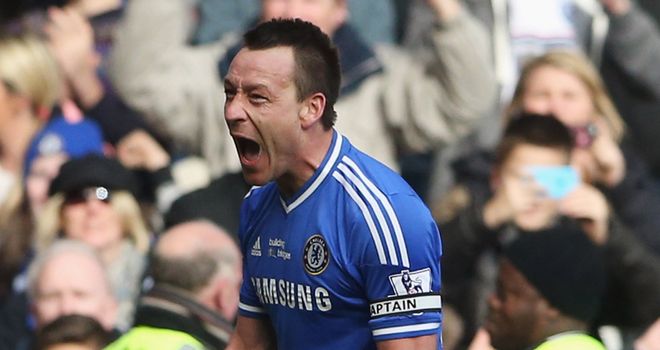 For a second, it felt like 2005 all over again. A Frank Lampard free kick into the box, an imperious John Terry pressurising the goalkeeper from a set piece, and Chelsea grinding out another victory.
In Jose Mourinho's first season at Stamford Bridge, 11 league games were won 1-0 as the title was won. This was just the third in the PL since his return, but the last two (on Saturday against Everton and away at Manchester City earlier this month) act as a solemn reminder: this looks very much like a Mourinho side of old, on its determined path to a title.
"If I want to win 1-0, I think I can," was Mourinho's boast ahead of a match at the Emirates in December. "One of the easiest things in football is to win 1-0." There was nothing "easy" about Chelsea's victory over Everton, but this is a time of the season when result is king - Chelsea are top and will be damn difficult to move.
"A point for them is a good point. A point for us is not good, and in the end maybe we deserved it. If today we had a draw, I think in a couple of hours we would be third in the table. This is the reality in this competition. The feeling when you lose late points is bad. "
Jose Mourinho Quotes of the week
Mourinho is not a manager afraid to win games ugly - such is his pantomime villain demeanour that you sometimes think he would prefer it. That said, the Portuguese must have been hugely alarmed during a first half in which they were totally dominated in midfield by Roberto Martinez's Everton.
James McCarthy was the most impressive performer, nullifying the threat of Eden Hazard, Oscar and Willian in an initial firefighting role, but growing into the game sufficiently to impact in an attacking sense. His excellence allowed Leon Osman to roam between midfield in defence without having to track back particularly often. It was from one of these positions that Osman forced Petr Cech to tip over in what constituted the most dangerous moment of a first half low on chances.
That said, for all Everton's distinction Chelsea were utterly toothless for the first 45 minutes, devoid of any sense of obvious purpose or urgency. Mourinho had picked an attacking side containing all three of his first choice attacking midfielders, and yet they were critically short of any notable pace or vigour. It took 36 minutes for them to even muster shot on target.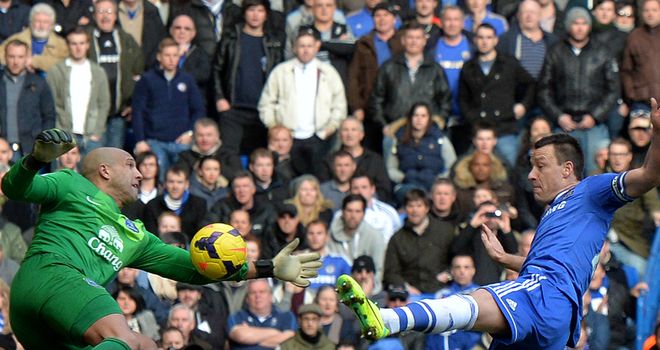 Frank Lampard may have been lauded before the game for becoming the second most prolific Premier League appearance maker, but his influence is so obviously waning against an apposition keen to move the ball quickly. Without the combative streak that David Luiz provides, Everton's midfield found it far too easy to stroke the ball around at will.
None of Chelsea's attacking trinity contributed anything worth of mention before Oscar was removed at the break. His manager talked of the Brazilian's fatigue in the build-up to the game, making him the prime candidate for early substitution, but in reality it could have been any one of three or four players for the home side. Willian also departed on the hour mark.
The second half was better from the home side, but Howard was forced into only one save of great note, a fantastic reaction stop from Branislav Ivanovic. That the Serbian looked far sharper in Everton's penalty area than Samuel Eto'o or the introduced Fernando Torres says much for Chelsea's striking bluntness. Torres completed just five passes in his 36 minutes on the pitch, two hugely wayward shots his only real contribution.
Chelsea's sluggishness was especially strange given that this represented one of their toughest assignments in a Premier League run-in far gentler than those facing Manchester City and Arsenal. A draw against Everton, which was the least Martinez's side deserved would have firmly handed the initiative to City.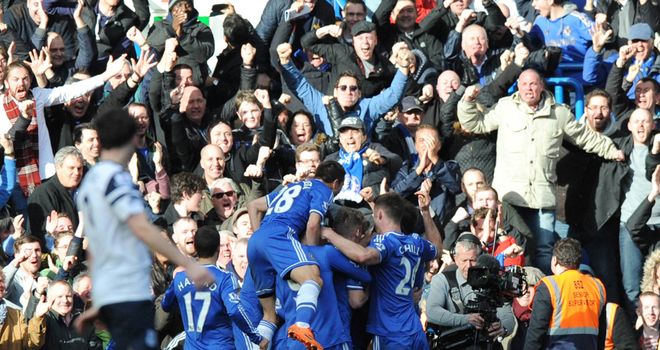 "Of course when you score on 90-something minutes, you can talk about lucky," Mourinho said after the game. "I feel sorry for Everton, maybe a draw was fair." He somehow managed to hide the wry smile that would have demonstrated more than any clichéd sound bite.
It was gritty, it was underwhelming and it was lethargic, but it matters not a jot. These are now surely the title favourites?