Tampa Bay Rays pitcher Matt Moore hit in face by line drive, escapes injury
Last Updated: 23/03/14 10:40pm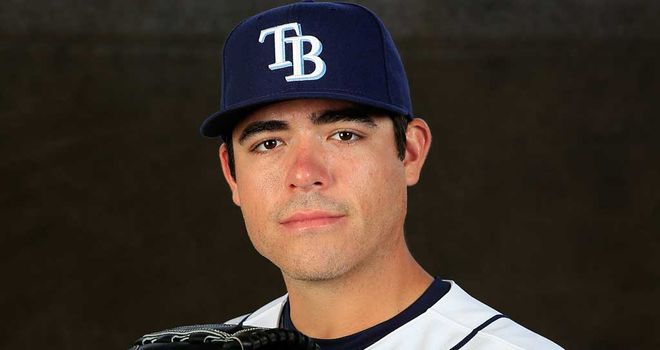 Matt Moore: Escapes serious injury after being hit in mouth
Tampa Bay Rays pitcher Matt Moore escaped serious injury when he was hit in the face by a line drive during their Spring Training game against the Boston Red Sox.
Moore was able to walk off the field after taking a hard-hit ball from Xander Bogaerts in the mouth during the fourth inning of a game the Rays went on to win 9-2.
The incident came only four days after Cincinnati Reds closer Aroldis Chapman was hit in the face while pitching - he had to undergo surgery on a broken bone above his eye and will miss six-to-eight weeks.
Moore was able to get his glove up just in time to deflect the ball and take a little pace off it - he also managed to get the ball over to first base to complete the out before reaching for his bleeding mouth.
He was eventually carted away from the dugout but only needed a couple of stitches in a fat lip - Moore also complained of a little pain in his teeth and he will have precautionary X-rays on Monday.
Moore was also credited with the win after giving up just one run before his accident. He struck out four and walked four.
Red Sox left-hander Felix Doubront had another rough outing, his second in as many starts, going 4 1/3 innings, giving up eight runs and 10 hits, including a home run, and two walks with six strikeouts and a balk.
Matt Joyce hit his second home run of the spring in the sixth inning to plate three of the Rays runs.