MLB: Welington Castillo stars as Chicago Cubs beat St Louis 6-3
Last Updated: 12/04/14 9:05am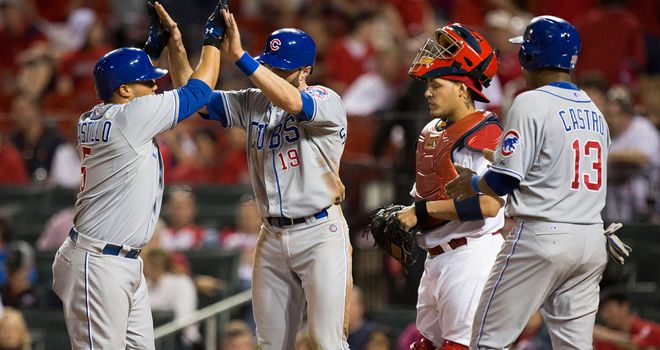 The Cubs celebrate with Welington Castilo (far left)
Cubs catcher Welington Castillo hit a long three-run homer off St. Louis closer Trevor Rosenthal in the top of the 11th inning as Chicago secured a 6-3 win road win at the St. Louis Cardinals.
Castillo launched a 1-1 fastball 426 feet to the seats in left-center, his second homer of the year, as the Cubs improved to 4-6.
A base hit by Robinson Chirinos scored Kevin Kouzmanoff with the winning run in the 12th inning as the Texas Rangers beat the Houston Astros 1-0 at home.
The Rangers had plenty of chances but cashed in on only one of 14 opportunities with runners in scoring position in the longest scoreless game in their two decades at their current home stadium.
Left fielder Grady Sizemore hit a go-ahead three-run home run with one out in the top of the sixth inning, and Jon Lester pitched effectively into the seventh, as the Boston Red Sox evened their four-game series with the New York Yankees with a 4-2 victory.
Los Angeles Dodgers hammered Arizona 6-0 with first baseman Adrian Gonzalez hitting a two-run home run.
Seattle Mariners pitcher Felix Hernandez impressed in his home opener as the Seattle Mariners beat the Oakland Athletics 6-4. Hernandez tossed seven innings of four-hit ball, striking out 11 along the way, though Oakland (6-4) had a four-run eighth inning to make it interesting after chasing Hernandez from the game.
Toronto starter Dustin McGowan threw 6 1/3 scoreless innings and the Blue Jays took advantage of several miscues by the Baltimore Orioles as they won 2-0.
White Sox left-hander Chris Sale became the first three-game winner of the MLB season as Chicago beat the Indians 9-6.
Left fielder Justin Upton looped a single into right field to score pinch-runner Jordan Schafer and give the Atlanta Braves a 7-6 victory over the Washington Nationals in the 10th inning.
Minnesota Twins starting pitcher Kyle Gibson allowed one run on five hits in 6 1/3 innings, helping the Twins to a big 10-1 home win over the Kansas City Royals.
Right fielder Marlon Byrd drove in two runs as the Philadelphia Phillies beat Miami Marlins 6-3.
Left-fielder Matt Joyce homered and left-hander David Price allowed one run in 8 1/3 innings, lifting the Tampa Bay Rays to a 2-1 road victory over the Cincinnati Reds.
Home runs by third baseman Aramis Ramirez and first baseman Mark Reynolds powered the Milwaukee Brewers to a 4-2 home victory over the Pittsburgh Pirates.
Andrew Cashner pitched a one-hit, complete-game shutout as the San Diego Padres blanked the Detroit Tigers 6-0.
And left-hander Madison Bumgarner hit a grand slam and tied a franchise record for RBIs by a pitcher with five, powering the San Francisco Giants to a 6-5 home victory over the Colorado Rockies.