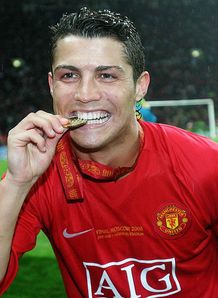 If you look at what each of them has done throughout the season, I believe I have done more than the rest.
Cristiano Ronaldo
Quotes of the week
Related links
Teams
Players
Also see
Cristiano Ronaldo believes he deserves to be handed the 2008 Ballon d'Or and Fifa World Player of the Year awards.
The Portugal international was in stunning form for Manchester United last season, scoring 42 goals in all competitions as the Red Devils were crowned Premier League and European champions.
In typically self-confident fashion, Ronaldo has proudly boasted that he should claim the individual accolades.
He told Gazzetta dello Sport: ""There cannot be just one candidate. There are two or three that deserve it.
"But if you look at what each of them has done throughout the season, I believe I have done more than the rest. What else could I have won for the Golden Ball and the Fifa award?"
Fantastic
He added: "Honestly, regarding the (Ballon D'Or) and the Fifa World Player award I feel confident, I am calm.
"I won the golden boot after scoring 31 goals, I was top scorer in England and in Europe. I was also the top scorer in the Champions League with eight goals and I am not a striker.
"It was a fantastic season but what is more important is the trophies I won with Manchester United, the Premier League and the Champions League."
Ronaldo is on a 30-man shortlist for the Ballon d'Or, which was previously known as the European Footballer of the Year award, alongside United team-mate Wayne Rooney and Liverpool's Spain striker Fernando Torres.
Torture
The Old Trafford star has also revealed the 'torture' he endured as he played through the pain barrier in the closing stages of the season and in Euro 2008 before undergoing ankle surgery.
But he insists he would not hesitate to delay any future operations if it meant he could play in vital fixtures for club and country.
He said: "At times it was like having a knife in my ankle.
"I gritted my teeth. I don't regret it. It was worth it. It was torture, also psychologically."
Does Ronaldo deserve the World Player of the Year award? Let us know using the form below.