Nadal has tendonitis
World number one needs a week's rest
Last Updated: 04/11/08 8:54pm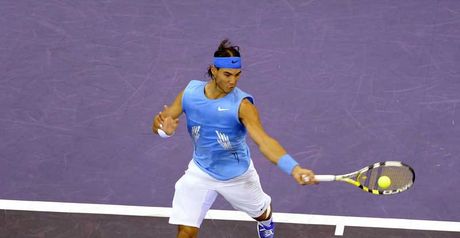 Nadal: Period of rest
The Spanish tennis federation (RFET) has revealed that a bout of tendonitis was the reason behind Rafael Nadal's withdrawal from the season-ending Masters Cup.
According to RFET, the world number one has tendonitis in his right knee and, as a consequence, will need a week of rest and treatment involving anti-inflammatories, physiotherapy and ice packs.
Nadal pulled out of the Shanghai event on Monday because of the injury, which last week also forced him to retire from his Paris Masters quarter-final against Nikolay Davydenko.
He is also a doubt for Spain's Davis Cup final in Argentina, which starts on November 21.
RFET doctor Angel Ruiz-Cotorro said: "Once this period of rest is over, and depending on the development of the pain, Nadal will gradually begin training on the court again."
Dr Ruiz-Cotorro added that further tests were planned for Monday.
Nadal has already blamed the injury on his busy schedule, adding that the intensive ATP calendar had taken its toll on his body.
"Competing at so many events might have harmed, especially at the end of the season, my physical condition, taking away the freshness needed to play at the top level of the game on these last events," he said on his web site (www.rafaelnadal.com).
Nadal will be replaced at the Masters Cup, which starts on Sunday, by Frenchman Gilles Simon.