Fed shrugs off bad back
Swiss star to regroup after difficult 2008
Last Updated: 20/11/08 7:39pm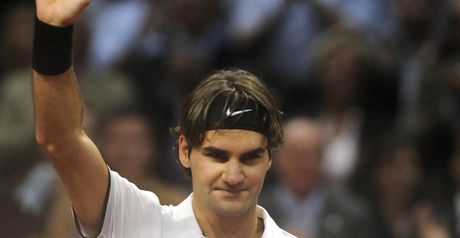 Federer: Feeling better and better
Roger Federer says he is heading into the winter break without the back problems which hindered him at the end of the season.
The Swiss star has ended a troubled 2008 by scoring a 6-4 6-4 victory against world number 10 James Blake in an exhibition match in Macau.
Federer lost to Andy Murray at the end-of-season Masters Cup last week and subsequently said his back problems would have prevented him taking part in the semi-finals in Shanghai had he beaten the Briton.
But, after beating his American opponent on Thursday by scoring a break of serve in each set, the 27-year-old was in a more positive mood.
"I've been feeling better and better even though I felt sick again at the start of the week. I have felt like my body has been recovering since my last match against Murray," said Federer, who also withdrew from the recent Paris Masters with the same injury.
"I was feeling well today, which is a positive sign. It think it was the first time I really didn't think about my back and that is a good thing."
Disappointing
Although he beat Murray to win the the US Open in September, Federer has endured a disappointing season by his own standards.
He heads into the winter break without his number one crown for the first time since the end of 2003, losing top spot in the rankings to Rafael Nadal.
The Spaniard beat him to take the men's singles title at Wimbledon - where Federer held sway for the previous five years - and also retained the French Open title against his rival in crushing style.
But with his 2009 season beginning with an exhibition tournament in Abu Dhabi, Federer is preparing to bounce back.
He will remain in the Middle East to play in Doha before heading to Melbourne as he bids to regain the Australian Open crown.
That title is currently held by Novak Djokovic, the world number three now breathing down Federer's neck after winning the Masters Cup.
"You don't have a month to feel your way in at the start of the season, you will be judged at the end of January," added the three-times Australian Open champion.
"Some people make stupid predictions that your season won't be good if you don't win the Australian Open. But I have a good history in Melbourne, I have reached the semi-finals the last four or five times in a row. I am very consistent out there."