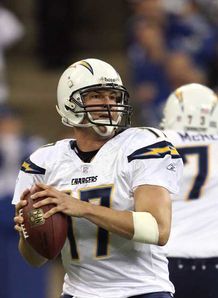 Also see
San Diego Chargers quarterback Philip Rivers requires knee surgery and faces six months on the sidelines.
Rivers, 26, played in the Chargers' 21-12 defeat to the New England Patriots in the AFC Championship game last Sunday despite the injury to his right knee.
He underwent arthroscopic surgery to clean out the joint in order to play against the Patriots and will now have another operation to repair a torn anterior cruciate ligament.
That requires six months of rehabilitation but Rivers is confident of being fit for the start of next season, saying: "I'll be ready for training camp."
Sky Bet Odds:
Click Here for Your Free Bet