No takers for Vick
Options shrinking for disgraced QB
Last Updated: 29/07/09 2:20pm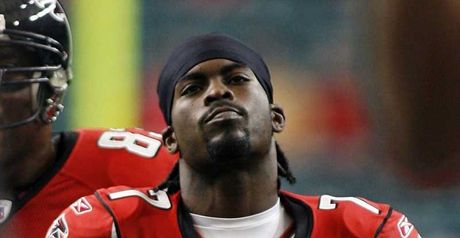 Vick: Looking for team
American Football Betting

American Football Betting

Bet with Sky Bet
A day after Michael Vick was conditionally reinstated to the NFL, a number of teams have already moved to rule themselves out of making a move to sign the disgraced quarterback.
NFL commissioner Roger Goodell says Vick can join a new team and practice immediately, but he may not be able to play in the new season until week six in October.
Although a host of teams could do with such a dynamic quarterback, several of the prime candidates to pick up Vick have already said they are not interested, while most are still keeping quiet on the topic.
The Baltimore Ravens are the only team to say they had discussed the former Atlanta Falcons man, although it would not be as a starting quarterback as Rookie of the Year Joe Flacco led them to the play-offs last year.
"We've had long discussions about Michael Vick, and we have a feeling about how he would impact our team and not impact our team," Ravens coach John Harbaugh said.
Denver discussions
Denver Broncos coach Josh McDaniels said they would not be bringing Vick in right now, but admitted they would evaluate him, after they traded Jay Cutler to Chicago and acquired Kyle Orton as their questionable starter.
"We're always going to try to do what's best for the organisation -- that could mean it's a player or a situation that we're going to evaluate," McDaniels said.
"We're always going to try to make sure that we leave no stone unturned. If it means adding a player, we have looked at every player that we feel out there could help us at this time."
Miami and Cincinnati have both said they are not interested, after both the Dolphins and the Bengals seemed like possible good fits for Vick.
The Dolphins' use of the Wildcat formation last season would make a quarterback with Vick's running ability a great asset, but they picked up West Virginia's Pat White in the draft - who is very much in the Vick mold.
Not interested
Added to that the fact that running back Ronnie Brown starred in the Wildcat, while a rejuvenated quarterback Chad Pennington was the Comeback Player of the Year, and the Dolphins feel they have more than enough.
"We don't have an interest," Dolphins general manager Jeff Ireland said in a statement. "We like the players we have on our current roster."
Bengals owner Mike Brown normally likes to take a chance to help controversial players out, but he says they would not want to unsettle their starter Carson Palmer as he looks to bounce back after an elbow injury last season.
"When you have a situation like ours, he's a very difficult fit," Brown said. "Quarterbacks are like queen bees - you can only have one of them before they start stepping on each other.
"And we have ours. Carson's the guy. That's why it just doesn't fit for here in a football sense."
With huge doubts over whether Vick can recapture his form after his spell in jail, along with all the negative media attention that may come with him - it will be a brave step to sign him up, while also the fact he may not be able to play until October also adds a negative factor.