Kolb heads to Arizona
Cardinals get QB for Rodgers-Cromartie and second-round pick
Last Updated: 29/07/11 10:38am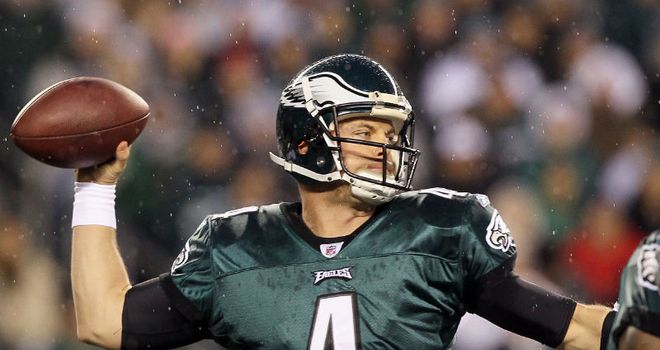 Kolb: Set to be starting QB for Cardinals
American Football Betting

American Football Betting

Bet with Sky Bet
The Arizona Cardinals have acquired Philadelphia Eagles quarterback Kevin Kolb in exchange for Dominique Rodgers-Cromartie and a second-round draft pick.
Kolb has also reportedly agreed to a five-year contract extension, worth $63.5 million with $21 million guaranteed, on his arrival at the Cardinals.
The 26-year-old had expected to be the starting quarterback for the Eagles last season but ended up spending most of the campaign on the bench behind Michael Vick.
Arizona will be hoping the signing of Kolb will spark a turnaround in fortunes for the franchise, who slumped to a 5-11 record in 2010 following the retirement of former quarterback Kurt Warner.
Cornerback Rodgers-Cromartie leaves the Cardinals after a three-year spell with the team who picked him in the first round of the 2008 NFL Draft.
Young released
Reports have suggested that Philadelphia could sign former number three overall pick Vince Young, who has been released by the Tennessee Titans, to fill the void left by Kolb.
Elsewhere, the Miami Dolphins have snapped up running back Reggie Bush from the New Orleans Saints, with an undisclosed draft pick going in the other direction.
The Saints have in turn signed former San Diego Chargers running back Darren Sproles to a four-year, $14 million deal.
The Carolina Panthers have traded a third-round pick for Chicago Bears tight end Greg Olsen while also tying down linebacker Jon Beason to a five-year contract extension.
Pro Bowl right tackle Tyson Clabo has agreed to a contract extension at the Atlanta Falcons, who have also signed sixth overall draft pick Julio Jones.