Ones to watch in '09
Our experts name their ones to watch on 2009
Last Updated: 04/02/09 11:20am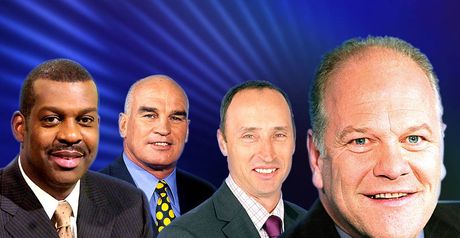 Stay with skysports.com in 2009 for the best in up-to-the-minute sports analysis.
Our team of pundits, columnists and bloggers are the best in the business and with so much sport coming up on Sky Sports in the next 12 months we asked our experts who or what we should be looking out for in the year ahead.
Which rising stars will make a name for themselves in 2009? Which players will be hitting the headlines in the next year? And which teams and events will make for unmissable viewing?
Whatever your sport sit back and enjoy as some of the most respected names in the business, including Chris Kamara, Stuart Barnes, Stevo, David Lloyd, Jim Watt and Kevin Cadle gaze into their crystal balls and give us their ones to watch for 2009.
Chris Kamara
My ones to watch for 2009 are Adam Lallana who is a midfielder / forward at Southampton and the young striker Angelo Balanta at QPR, who has been on loan at Wycombe. They are both lovely footballers with big futures ahead of them. As they improve they will become big stars in the next generation.
Stuart Barnes
The Heineken Cup in general is one to watch in 2009 - why would you not watch it? I'll give you one individual to keep an eye on too, John Barclay of Scotland, who could play himself into the Lions tour and even the Test team if things go well for him.
Sid Waddell
The guy to keep an eye on is Mark Walsh, who had awful dartitus two years ago - to the extent he could hardly throw. He'd been in the final of the UK Open, but the dartitus struck and the darts would just fall out of his hand. Now he's back with a real bang and he could really build on that in the year ahead.
Nasser Hussain
In world cricket I'll be keeping an eye on Ajantha Mendis to see how he develops under Muttiah Muralitharan's guidance. If Sri Lanka can produce another great to follow Murali it would go a long way to keeping their cricket strong. In English cricket I'll be looking at Kent opener Joe Denly. I'd like to see him progress away from the Test arena for another season just to see if we have any new blood coming through.
Guillem Balague
The Corinthians striker Keirrison - or K9 as he is known - has scored one goal every two games for them. He's just 20 and is the last really promising Brazilian left in Brazil. He's a striker who sometimes looks like Ronaldo, sometimes like Romario, and he'll definitely be at a big club soon.
Mark Roe
I'm going to give you
Ollie Fisher
as my golfer to watch in the New Year. He's 20-years-old and he's already showing signs of being able to contend. He lost in a play-off last year in Andalusia and he has got so much more to give. I believe that at 20 years of age, he is the most exciting prospect in the world.
Paul Merson
He's done alright up until now, but my one to watch in 2009 is definitely Ashley Young. I'm not sure he's as good as Messi and Ronaldo as Martin O'Neill said but he's better than Theo Walcott and I can't understand how he's not in the England team. If we've got two better wingers in the country than him then we are very, very spoiled. He's pacy, he runs at defenders, he can cross a ball at pace and when it's slowed down - and he can finish as well. He's got everything a winger needs and 2009 should be a big year for him.
Martin Tyler
I haven't seen that much of him, but what I have seen of Nathaniel Clyne, I like! He's a 17-year-old right-back at Palace and Neil Warnock likens him to Gary Charles, when he was young. Gary of course went on to play for England and in an FA Cup final and Clyne seems to have the same fluency of movement and positional sense. And it has to be entirely natural because he can't have possibly assimilated it at such a tender age. With Rafael da Silva making such in impact at Manchester United as well this year, it does seem strange to be talking about right-backs, but it's nice to see. Both of these young men obviously have plenty to learn, but Clyne is clearly a very good defender already.
Peter Beagrie
My one to watch is Leeds United's Fabian Delph. He's sensational; he's got everything you need in a midfielder - incredible technical ability, the physicality to get from box to box, a good range of passing and also heart and desire. When he's playing in front of 30,000 Leeds fans and it's not going right you will not find this boy hiding. He's mentally tough, he has a big heart but more importantly he's a tremendous footballer and a tremendous athlete. He's the one to watch.
David Lloyd
If you do one thing in 2009, keep your eye on Adil Rashid. He's really knocking on England's door now. He's impressed in India so Monty Panesar and Graeme Swann have got some real competition. International cricket needs something different and a leg-spinner normally provides that.
Dewi Morris
Keep an eye on Steffon Armitage. His brother Delon has been superb for England and I would not be surprised if Steffon gets his England call-up in 2009. He has that dynamism needed to get the impetus going forward as well as the hands and the vision to keep the ball moving. We have got a few top class openside flankers but I think Steffon Armitage would be a superb link between forwards and backs.
Stevo
I know I have said that I am worried that if Leeds beat Manly in the World Club Challenge then we will paper over the cracks, but I also think it is going to be a fantastic game. We will see some superb players on show and it is going to be a major highlight in 2009. I am also looking forward to seeing the Celtic Crusaders in the Super League - let's embrace them and help them as much as we can.
Phil Clarke
My player to look for in 2009 is Will Sharp, who scored two tries for Harlequins in what was my game of 2008 - their victory against Leeds at the Stoop in June. He had a great season and has the potential to become the best full-back in Super League. It may take him three years to get that far, but you can be certain he will do some amazing things for Quins in 2009.
Mark Petchey
If you are looking for the next Marat Safin, then look no further than Bulgaria's Grigor Dimitrov - the winner of this year's US Open Boys' Singles title. He might not make a big move in 2009 but this kid is going to be something special. He plays sensational tennis and could be the next big personality in the men's game.
Kevin Cadle
I like the Buffalo Bills. They've been a work in progress for the last two years and have had to deal with a lot of injuries this year, but I like the look of them for 2009. Their main man Trent Edwards will be into his third year, Marshawn Lynch will be in his third year, Paul Posluszny too, wide receiver James Hardy will be back, Lee Evans is still young and the whole core of that defense is pretty youthful too. When you put all that together and look at where Buffalo is going, you have to say it is all positive. This year has been all about building and putting things in place and I wasn't that much of a fan at the start, but from what I've seen this year, I expecting big things again. I think it will be time for Buffalo to take off and 2009 should be the year that the puzzle is finally complete.
Glenn McCrory
I might be blowing my own trumpet here, but watch out for the best things British boxing has seen for years. Michael Perez, Luis Garcia and Alexis Costa will make their breakthrough this year - despite having me in their corner! They are over in Newcastle as part of our Cuban connection. They help us with our amateur boxing, so we are helping them with their professional boxing and these three have joined my gym and I have got to say, I am impressed. Perez is a heavyweight and he is simply phenomenal. He is cocky and he makes mistakes as all kids do, but I have never been so excited by a heavyweight since I stepped in the ring with a young Mike Tyson.
Jim Watt
I like the look of young Paul Appleby. He has maybe got a wee bit ahead of himself being a British champion at such a young age and he is in quite a good division, but I expect him to really grow into the role of a champion this year. He has a tough defence first up against Martin Lindsay, but he came through a tough test against Esham Pickering at the end of the year, when he struggled to find any rhythm but still won the fight comfortably. He actually boxed better than he thought, but I like the fact that he is aware of the learning curve he is on. From what I've seen, has the whole package. He's still a prospect even though he's the British champion and certainly the best we've got up here in Scotland.
Kelvin Tatum
Chris Holder is going to shine in the Elite League riding down at Poole - he'll be a superstar in the near future. Also the U21 world champion, who's a Russian called Emil Saifutdinov, comes into the Grand Prix series next year and he's an exciting prospect for the future.
Bob Willis
This summer's Ashes series is what I'm looking forward to most about 2009 - here's hoping for another Oval 2005...