Aussies wait on trio
Champions wait on Ponting, Hussey and Hauritz
Last Updated: 08/02/11 9:48am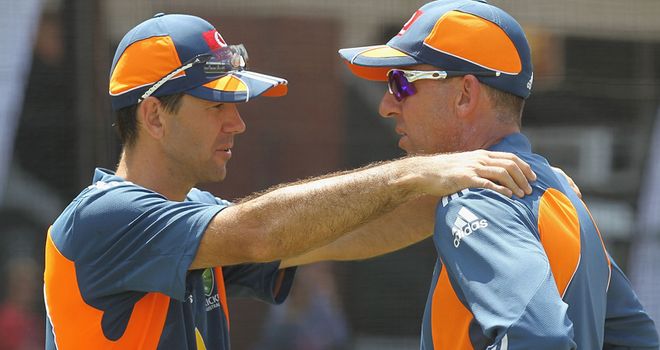 Ponting works on his fitness with Tim Nielsen
Cricket Betting

Cricket Betting

Bet with Sky Bet
Australia must solve an injury crisis ahead of confirming their 15-man squad for the forthcoming World Cup which begins in two weeks time.
The reigning champions are waiting on fitness reports for three key players: Ricky Ponting, Mike Hussey and Nathan Hauritz are struggling with finger, hamstring and shoulder injuries respectively.
Australia open their title defence on February 21 and coach Tim Nielsen has admitted he is reluctant to risk taking injured players to the tournament with the Aussies flying out on Wednesday.
Nielsen said: "I can't afford to have two, three or four guys that we're uncertain about. It means we've only got 11 fit ready to go at the start. That's the quandary we face.
"There's always a risk someone might dislocate a finger in a warm-up match or get crooked on the day of a game.
"I don't think we can expect to take two or three guys hoping they will be fit by a certain time.
"That's the hard decision we have to make. When are they going to be ready and what is the impact on the team if they're not ready for the first game or the second game?
"If we are going to replace players then we need to know if the replacements are ready to go straight away or are we better off taking the named player who might be ready at the same time? All these different things come into the equation."