Esham: I'll blow Marsh away
Pickering confident of securing Lonsdale belt outright
Last Updated: 27/06/08 11:24am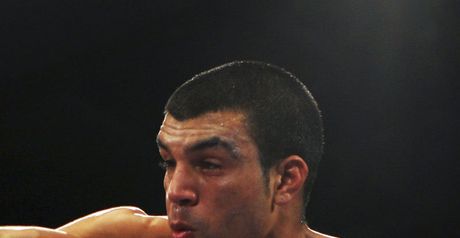 Esham: Confident
British super-bantamweight champion Esham Pickering insists he will have no problem claiming the Lonsdale belt outright with a successful defence against Matthew Marsh at York Hall.
Watch Pickering v Marsh live on Sky Sports 1, from 9.30pm on Friday
"I just think I will blow him away, I can beat him in every department."
Esham Pickering Quotes of the week
Pickering and Marsh go head-to-head at York Hall in front of the Sky camera's as the Newark fighter attemps to safely defend his crown for a third time and maintain his quest for a European title fight.
A defeat could signal the end of a distinguished career for "Brown Sugar", however, the 31-year-old claims the title means too much to him, and defeat hasn't even entered his mind.
"I've put it with my kids - it means everything to me," Pickering told Sky Sports News.
"It's a step on the ladder, a step in the right direction so this is the one that means the most to me more than any other fight.
"It's all in front of me. Win this Lonsdale belt outright and move on to bigger things.
"I just think I will blow him away, I can beat him in every department."
Marsh confident
Challenger Marsh intends to spoil the party in spectacular fashion as he looks to ignite his career with a famous win.
The 25-year-old believes Pickering is past his best and is confident he can put his hard work into practice by snatching the Lonsdale belt away from the champion.
"You've got to defend it three times to keep the belt and I think that is what every boxer wants - just to have that in your house so that's what he wants but I want to stop him having it.
"He has been there, he has got the experience under his belt and I've got the age under my belt so we'll see what happens on the night.
"I'm very confident, I've been training hard for this I'm all ready and I just want to get in there now.