Harrison slams Rubio
Former Khan trainer criticises his successor
Last Updated: 09/09/08 10:02am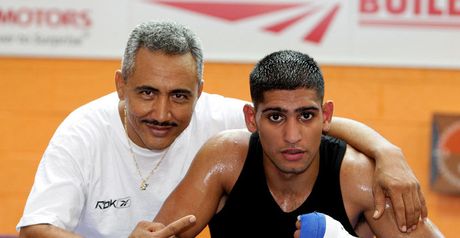 Bad start: Rubio and Khan
Amir Khan's former trainer Oliver Harrison has blasted his successor Jorge Rubio as "a Cuban amateur".
Harrison was stunned by the first defeat of Khan's pro career - a shocking first-round knockout at the hands of little-known Colombian Breidis Prescott on Saturday night.
And he says the Olympic silver medallist should now think about linking up with Brendan Ingle in a bid to rebuild his career.
Khan's defeat by Prescott came in his first fight under the stewardship of Rubio, and Harrison - replaced after guiding Amir to his first 17 pro wins - was far from impressed.
He told The Guardian: "I can't believe how Amir fought. It was absolutely the wrong way to fight somebody who can bang. I can't believe they learned him to keep his hands up and just stand in front of a fighter like that.
Madness
"He tries to be macho but that's not Amir. He naturally has his hands low and slips and slides like Tommy Hearns.
"The Amir I know would have his guard in front of his face and slip and slide to avoid the punches. But the Cuban guy had him with his hands up just walking forward. Madness. Any half-decent fighter could have hit him."
And Harrison insists that Khan's commitments out of a ring had been a problem.
"All I ever wanted was Amir to myself," added Harrison.
"But they wanted him to do interviews, to open clubs. Now he's even been saying, 'I like the cameras, I want the cameras', and slagging me off like I was an old girlfriend. Now they go and get a Cuban amateur trainer."