Froch all set for Kessler
Date confirmed for much-anticipated showdown
By James Mason. Last Updated: 08/12/09 4:38pm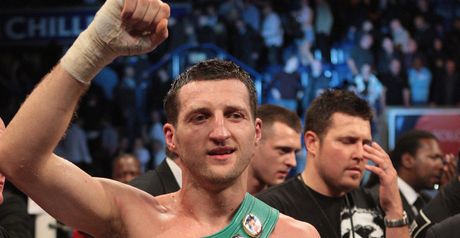 Froch: New challenge
WBC super-middleweight champion Carl Froch has lost home advantage for his Super Six World Challenge showdown with Mikkel Kessler.
Froch will travel to Denmark on April 17 next year to face Kessler, who lost his WBA title to Andre Ward in the first round of bouts in the series.
Froch, who opened up his campaign with a scrappy points victory over Andre Dirrell, has previously had to travel abroad before - with the Cobra knocking out Jermain Taylor in the 12th round in the American's home town.
And Froch's promoter Mick Hennessy is expecting a mouth-watering clash against Kessler
He said: "We've confirmed a date of April 17th for the Kessler fight. It will take place in Denmark and will be on at around 10pm in the evening UK time which is great news for British fight fans.
"It's going to be an absolutely massive event and it should attract a huge audience.
"It's an incredible fight between two of the world's best and most exciting fighters.
"Carl proved with that sensational KO over Jermain Taylor that he can go into the lion's den and beat the very best in the world and I've no doubt he'll prove that again against Kessler."
Froch beat Taylor and Dirrell in 2009 after winning the WBC belt from Jean Pascal 12 months ago.
And the unbeaten 32-year-old is confident he can build on these successes in 2010.
He said: "Last year was great, this year's been fantastic and next year's going to be even better."