Sky Sports pub finder
Track down the nearest venue showing Sky Sports
Last Updated: 12/08/10 9:55am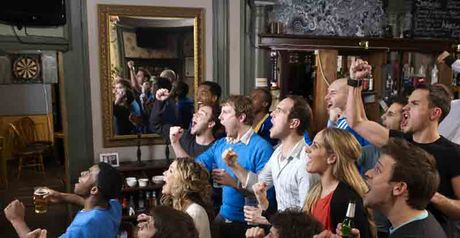 Sky has launched a pub finder for eager fans wanting to find a venue in which to watch Sky Sports.
Sports fans can now find their nearest pub showing the next big game on Sky Sports, simply by entering their postcode. Fans can access the pub finder at www.skysports.com/pubfinder, enter their postcode and get details of the closest venue showing Sky Sports.
The pub finder not only allows fans to search for pubs which have Sky Sports, it will also inform them of their nearest HD and 3D venue - allowing viewers to identify the best place to watch the action.
Sky Sports pub finder also:
- Lets you know the closest Sky Sports, HD and 3D pub to any post code
- Provides a map and directions from your postcode to your chosen pub
- Provides up to date information on up coming fixtures not to be missed
With the pub finder, customers can make sure to visit the best Sky Sports pubs in their local area.
Visit www.skysports.com/pubfinder to find your Sky Sports venue.