Sharp eyes up Dobson
Hull Coach interested in Raiders half-back
By Simon Dilger. Last Updated: 12/04/08 2:36pm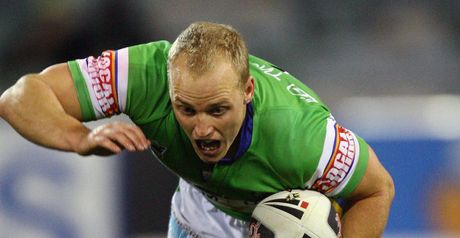 Dobson: Interest
Hull coach Peter Sharp is looking at bringing former Wigan and Catalans player Michael Dobson to the KC stadium as a short term replacement for the injured Richard Horne.
Sharp has admitted his interest in the 21-year-old Canberra Raiders scrum-half after Horne was ruled out for at least six weeks with a neck problem.
Hull have been plagued by injuries in a season that has seen them notch up just three Super League wins and Sharp feels it necessary to bolster his depleted squad.
"We're having a look at it," said Sharp when quizzed about reports linking Dobson with the club.
"We've had about 27 different pairings of halves this season - that's not conducive to good play in my opinion.
"You need to be reasonably steady in that position, they're pivotal positions to the team and how you play the game.
"We just haven't had any continuity. So, on the basis of Richie being out for an extended period and Dykesy also out for an extended period, we're looking at our options."
With Dobson currently out of favour with the Raiders and his contract due at the end of the year, Super League clubs are already alerted to his possible availability.
The young half back is thought to be keen to return to the Super League and with two other clubs, including Catalans, rumoured to be interested, Hull may have their work cut out.
Dobson enjoyed a highly impressive spell with Wigan in 2006 before heading back Down Under.