Super League set to expand
Decision on licence holders to come next month
Last Updated: 17/06/08 6:14pm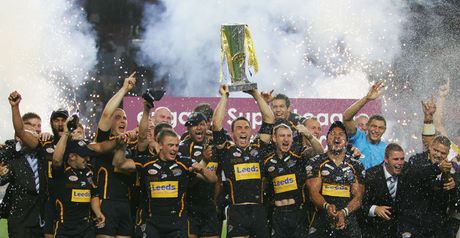 The Rugby Football League have confirmed that Super League will be expanded from 12 to 14 clubs starting from next season.
As of 2009, places in Super League will be awarded by licences rather than by promotion or relegation, with 19 clubs, including the 12 currently in the top flight, applying for places.
The decision to offer two extra places increases the likelihood that the likes of Salford, Widnes and Celtic Crusaders will be offered places, with Leigh, Featherstone, Halifax and Toulouse also in the running.
RFL executive chairman Richard Lewis told BBC Radio Five Live that the success of Super League in its current incarnation meant the time was right to expand.
He said: "I believe the sport is on the up and there are so many things that are going well.
"Television income, sponsorship income and crowd figures - so much is going well. I think the sport is ready to make that transition.
"The international game is growing and it is probably as good a time as any for the sport to go to a 14-team Super League competition."
Final make-up
A decision on the final make-up of Super League from 2009-11 - licences are to be reissued every three years - is expected next month, although no date has been confirmed.
Super League last consisted of 14 clubs in 1999 but reverted to 12, its original level, after the demise of Gateshead and Sheffield.
Those clubs merged with Hull and Huddersfield respectively before being reformed at a lower level.
Lewis also expressed confidence that the planned changes to Super League will not affect the strength of the game in the National League divisions.
He added: "I know the National League is a very strong competition and that will remain very strong even when Super league goes to 14. I think the sport is ready to make that transition."