World Cup rules spelled out
Organisers lay out eligibility criteria
Last Updated: 31/07/08 1:25pm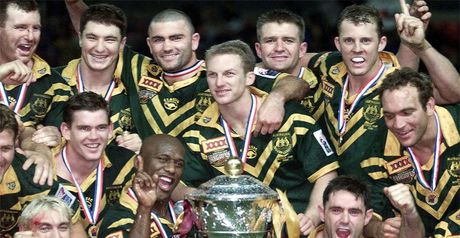 Australia won the last World Cup back in 2000
The organisers of the Rugby League World Cup have restated the player eligibility rules ahead of the submission of interim squads.
AN EPIC SEASON
Over the next 12 months, Sky Sports will bring you the key events in the sporting calendar including:
- Barclays Premier League - UEFA Champions League - The Ryder Cup - Rugby League World Cup - Twenty20 World Cup - Lions tour of South Africa - The Ashes
For more go to
www.skysports.com/epic
The 10-nation tournament starts in Australia from October 25 and, for the avoidance of any doubt, the Rugby League International Federation (RLIF) have listed the criteria that must be met in order to participate.
A player can take part in an international match for the country of his birth; the country his parents or any of his grandparents were born in; and his principal country of residence for a period of three years up to his selection date.
Selection is also permitted for the country a player has representated international rugby league in at any age level prior to the introduction of the RLIF's constitution in 1998, or for a country where he has gained senior international honours in any sport.
Where a player is eligible for more than one country a choice must be made - this is deemed to have occurred once selection in a team is accepted by the individual. Until that point he is available for more than one nation.
The 2008 Rugby League World Cup, the first for eight years, features 18 matches at 12 venues over the course of 29 days.
The format consists of three pools, with the first comprising Australia, New Zealand, England and Papua New Guinea. The second includes France, Fiji and Scotland and the third brings together Tonga, Samoa and Ireland.
Brisbane's Lang Park hosts the final on November 22 - it is already a sell-out.