Italy call on duo
Super League duo included in Italy squad for autumn games
Last Updated: 20/08/10 10:16am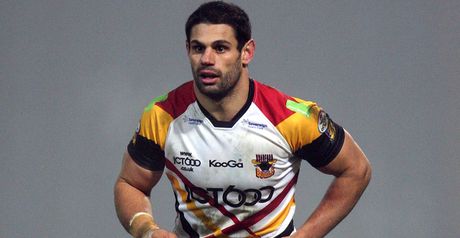 Nero: Italy squad
Italy coach Carlo Napolitano has included Super League duo Chris Nero and Rocky Trimarchi in his 40-man train-on squad for the upcoming autumn internationals.
Bradford centre Nero and Crusaders loose forward Trimarchi join eight Australian-based players in the squad, which is otherwise made of players from Italy's domestic league.
The Azzurri play Lebanon at home on September 22 and 25 before heading to Wrexham to meet Wales on October 3 and end their international programme three days later against Wales Under-23s in Colwyn Bay.
Napolitano said: "The game against Wales is a great opportunity for myself and my staff to look at players for the World Cup qualifiers in 2011.
"I think we can be competitive and increase our promotion within Italy. It's good to see that we are getting players from our Italian domestic league and giving them a taste of the higher level."
Squad: C Nero (Bradford), A Kaleopa (Cabramatta), P Franze (Charlestown, NSW), R Trimarchi (Crusaders), F Barzieri, A Cuomo, M Ferrazzano, G Franchi, D Pasqualini, R Quitadamo, M Rossi, M Segundo (all XIII del Ducato), J Bastiani, N Bressanin, D Brunetta, L Gazzola, E Lerna, M Sands, A Sola, L Torregiani, F Veronese, D Wilson, L Zollo (Grifons Padova), G Bonfiglio, M Ferraro, J Dubas-Fisher, J Grasso, M Marcinzack, M Pozzebon, M Soligo, D Vicelich (Leoni Veneti), F Grotti (Lezignan), R Lenarduzzi (Moss Vale, NSW), C Calegari (Palau), D Nasso (Parramatta), B Falcone (Western Suburbs), R Nasso, B Stewart, R Tramonte (Windsor), D Sansone (Wollongong).