Purtill waits on Saints job
Assistant hopes to discover within the next month whether he will replace Potter
Last Updated: 30/06/10 5:50pm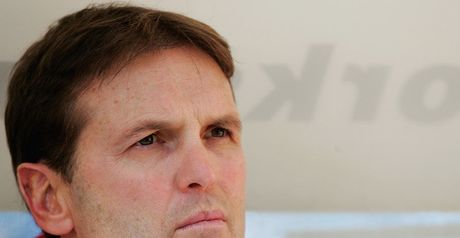 Potter: Leaving Saints
Rugby League Betting

Rugby League Betting

Bet with Sky Bet
St Helens assistant coach Kieron Purtill hopes to discover within the next month whether he is to become Mick Potter's replacement.
Potter is leaving Saints at the end of the season and Purtill, who rejoined the club last year from Huddersfield - where he spent time in caretaker charge of the team - has revealed his interest in the post.
The former Leigh half-back said: "It is something that I aspire to be, a head coach.
"I have done quite a long apprenticeship now, nearly 10 years coaching full-time.
"I had six months at Huddersfield as head coach and thoroughly enjoyed it.
"It is something I am going to keep aiming for, whether it is this year or next year. Hopefully one day I will achieve it.
"The club is going through the process and they will appoint the right man for the job.
"Hopefully by the end of July that decision will be made.
"I think most clubs - Huddersfield, Bradford and Catalans - will be working to similar timelines.
"It is the general time now because you need to start planning for the next pre-season."
Graham ponders move
If Purtill is offered the role it will come at a pivotal time in Saints history, given their impending move to a new stadium
However, he might not be able to count on the services of James Graham beyond 2011 if the inspirational prop moves to Australia.
Graham, who has one more year left on his contract, is the latest high-profile England international to be linked with a move to the NRL.
The 24-year-old has not ruled out joining the likes of Sam Burgess and Gareth Ellis Down Under but wants to see out his current deal.
Graham said: "I am trying to focus on this year and winning trophies this year.
"After that I don't know yet, I'm not sure. I just want to keep playing well and I will look at my options when the time is right.
"I have got an agent working for me over there (Australia) and sooner or later I am going to be faced with a decision, whether I stay or go.
"I honestly don't know what I am going to do yet but the one thing I do know is that I am going to be here next year."