Rocket off to a flyer
O'Sullivan overcomes McLeod fightback in Telford
Last Updated: 14/12/08 6:19pm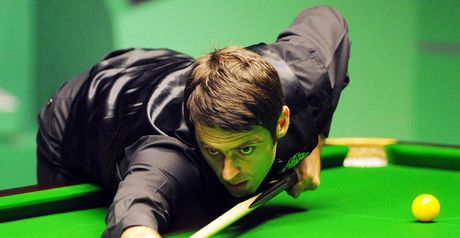 O'Sullivan: Classy clearance
Ronnie O'Sullivan began the defence of his Maplin UK Championship title with a 9-6 victory over Rory Mcleod in Telford.
O'Sullivan appeared to be on his way to a lop-sided victory when he stormed into a 6-0 lead outscoring his opponent by 541 points to 19 as he rattled in three centuries.
But McLeod hit back stylishly winning the next five frames including a total clearance of 131 in the ninth frame, and led 55-9 in the next but missed a black of its spot allowing O'Sullivan to double his advantage.
eod was first in again in the next but broke down after a run of 47 and O'Sullivan cleared up with a break of 94 to close within a frame of victory.
The world champion missed several chances to close out the match in the 14th frame as McLeod eventually won a scrappy affair to make it 8-6.
But O'Sullivan showed his class when it mattered most, compiling a superb 70 clearance - including a brilliant pink with his left hand - to seal a hard-fought 9-6 victory.
Scotsman Graeme Dott also advanced to the second round with a 9-4 victory over fellow former world champion Ken Doherty.
Dott had looked to be in control when he moved 5-0 ahead, but Doherty hit back to win the last three frames of the opening session.
However, the Dubliner won only one more frame in the match as Dott eased through to the last 16.
Matthew Stevens came through an all-Welsh battle with Ryan Day, the former World Championship runner-up winning 9-5.
Earlier, Joe Perry progressed to the second round after Mark Davis was forced to pull out of their match in the second frame due to illness.