Trump jumps three clear
Qualifier wins final three frames of the evening
Last Updated: 01/05/11 10:47pm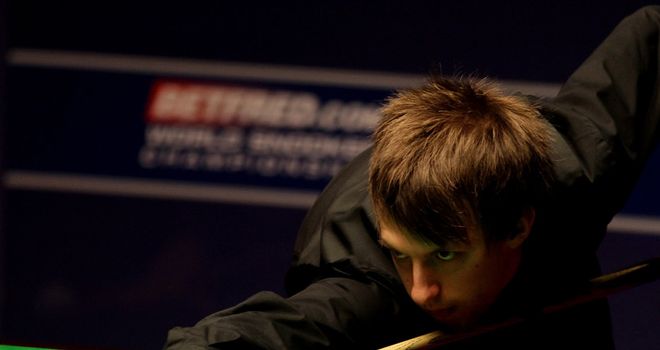 Judd Trump: eight frames away from the world title
Judd Trump took a 10-7 lead over John Higgins after day one of the Betfred.com World Championship final.
The 21-year-old from Bristol was in superb form in the evening session after the afternoon frames were shared four apiece.
Higgins had sufficient chances to remain just about within touching distance, and Trump's only regret may be that he did not build up a bigger lead. However at 7-7, a scoreline which hardly seemed to reflect the flow of the match, Trump would have happily settled for taking the final three frames.
Adding to Higgins' frustrations, he was fined £250 for conceding the 16th frame with enough points left on the table to force a respotted black.
Trump dropped 5-4 behind after the opening frame of the evening session when Higgins had a break of 60.
Exhibition shots
But he had breaks of 55 and 58 to lead 6-5 and turned on the style in frame 12, playing a run of exhibition shots on his way to a break of 103 and a two-frame lead, finishing with an immense black played at high speed from close to the top cushion to the green pocket.
Higgins came back to 7-6, and levelled after a scrappy frame.
Trump had a 49 break to lead 49-18 at 7-7, and although he broke down there, a further run of 28 made the frame safe.
A touch of controversy came when Higgins conceded when 51 behind with 51 remaining on the table.
That is against the usual etiquette, costing him money, and it suited Trump as he gained a two-frame lead.
Higgins led 36-0 in the final frame of the evening but missed a black and Trump replied with 45 before running stray of position. He soon had another chance though, and took it with aplomb.
He will need to win a further eight frames on Monday to be crowned world champion at the age of 21.