Bees come good in Pairs
Harris, Andersen clinch Blunsdon win
Last Updated: 18/08/08 10:28am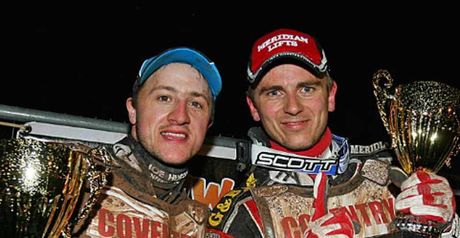 Harris and Andersen (credit: Les Aubrey)
Coventry's brand new pairing of Chris Harris and Hans Andersen came good in the Elite League Pairs at Swindon on Sunday.
The duo overcame persistent rain to make it through to the final, where they beat the home pairing of Mads Korneliussen and Leigh Adams by filling second and third spots.
A bumper crowd were treated to some fantastic action at Blunsdon with the wet weather providing grippy conditions perfect for competitive action.
Andersen, only recently secured by the Bees' management, won three of his first four races to see the team into the semi-final, where they saw off the challenge of Jason Crump-led Belle Vue.
The Robins' pairing of Adams and Korneliussen had comfortably topped the qualifying heats with an emphatic 26 points.
The imperious Aussie, fresh from victory in the Scandanavian GP, was in sublime form as he romped to four successive victories to lead Korneliussen past Ipswich in the semis.
But he was left trailing in the final and he could not find a way past Andersen as the Bees claimed the title.