Nicholls ponders GB future
Star could quit national side
By Graeme Bailey - Follow me on Twitter @graemebailey. Last Updated: 15/03/11 3:11pm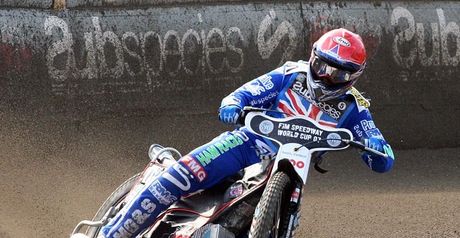 Nicholls: In action for GB (Pic credit Fotospeedway.pl)
Great Britain ace Scott Nicholls has admitted he is considering quitting the international scene.
Team GB has already been hit hard by decision of Lee Richardson to quit earlier this month, which came as Rob Lyon resigned as team boss.
Now Nicholls has admitted he too is considering whether to ride for his country again.
"I'm open-minded with regards to what's happening with it. Like Lee, I've had my reservations about the Team GB thing for a couple of years; just because of the way it was going and the way it was run," Nicholls told the SGP official website.
"Financially, we are down on money when we compete in the World Cups, but we accept that and take on board that we're there to represent our country and we're proud to represent our country.
"Money is the last thing you think of when you put your crash helmet on to go out and race. Like any race, I will go out and put 110 percent in because it's my name on the line, not just Britain's.
"I was not planning on doing the Team GB thing a couple of years ago (in 2009), but when Rob came on board and the way he spoke, I was encouraged by that. That's why I said I'd do it again. Even though I was left out of the team that year, I was still enthusiastic to compete.
"I thought we had someone in charge of the team, who might actually do something to turn things around and make it more constructive. But now Rob has left, I'm not sure where I am going to be.
"I'm just open-minded at the moment. I'm going to wait and see who takes over, what the guidelines are, and I'll make a decision then."