Evans forced to retire
Scotland winger losses his battle to return from serious injury
Last Updated: 01/07/10 11:53am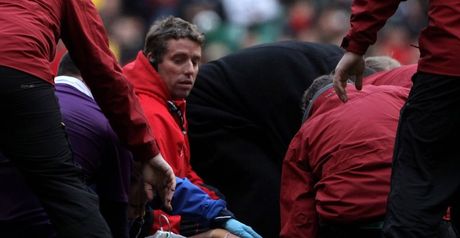 Evans: Serious injury
Thom Evans has lost his battle to return to action following a serious spinal injury.
The 25-year-old Scotland winger damaged two vertebrae following a collision with Wales full-back Lee Byrne during the RBS Six Nations.
Evans was stretched off in a neck brace and needed emergency surgery to stabilise his spine.
However despite working hard in rehab over the past four months to get back to full mobility, Evans has now told family and friends that he has now accepted medical advice that he will not play again.
And former Scotland winger Roger Baird, who mentored Evans, believes the news is sad for the game and the player.
Blow
"It is devastating for Thom because all you want to do is play top-class rugby for as long as you can, and there is no doubt he would have contributed a lot to Scottish rugby in the years to come," Baird told The Scotsman.
"It is also a huge blow for the Scottish game and the Glasgow and Scotland teams because we just don't have players with his searing out-and-out pace.
"Although he was quite late to rugby we spoke a lot about his defence, positioning and other things and he took them all on and didn't make the same mistake twice.
"He is genuinely brave and strong, with good intelligence for the game, and I could only see him getting better.
"But you also have to get things into perspective. The great thing is that Thom is able to walk."