Smith admits transfer talks
Tigers man keeping his options open
By Joe Drabble. Last Updated: 05/02/08 3:12pm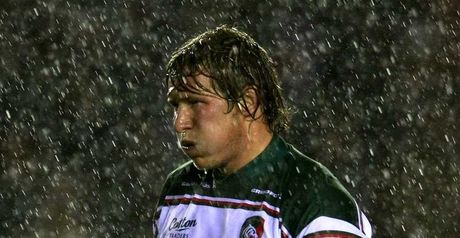 Smith: Tigers exit is a possibility
Rugby Union Betting

Rugby Union Betting

Bet with Sky Bet
Leicester Tigers centre Ollie Smith has openly admitted to having "talks" with other clubs about a possible move next season.
The 25-year-old England player was close to joining Clermont Auvergne last year, and has been strongly linked with Tigers' Saturday opponents - Gloucester.
Smith only signed a one-year deal at the end of last season and revealed he is now looking at his options for next season.
"You have talks with all clubs, don't you? You speak to everyone," Smith told the Leicester Mercury.
"It would be silly of me to say, 'I am going to play for Leicester again'.
"If any clubs came in and said, 'Here is £1 million for three years', you would say I am going to look after my family and my future.
"Another club might come in and say: "We think you will fit into this set-up', so you think maybe a change would be good.
Replacement
"When you have been at a club so long, it's silly not to look at your options, and that is what I'm doing. I'm in talks with Leicester and other clubs."
Leicester may have to start thinking about a possible replacement for Smith who made his debut at Welford Road in 2000 and has made 173 appearances - scoring 37 tries.
Newcastle and England centre Mathew Tait has been linked with a possible move to the midlands club should Smith decide to move on to pastures new.
"My contract runs out at the end of the season and I'm in negotiations now," added Smith.
"It's the standard sort of thing at this time of the year. You look at your options, like I have done the last few times my contract has been up for renewal.
"I want to play abroad at some stage. Ever since I got into professional rugby, I have hoped that, at some point, I'd play abroad.
"I'm looking at my options there but things are going well for me at Leicester."