Powell 'attacked by gang'
Wasps No.8 needed 10 stitches after incident
Last Updated: 20/04/11 11:22am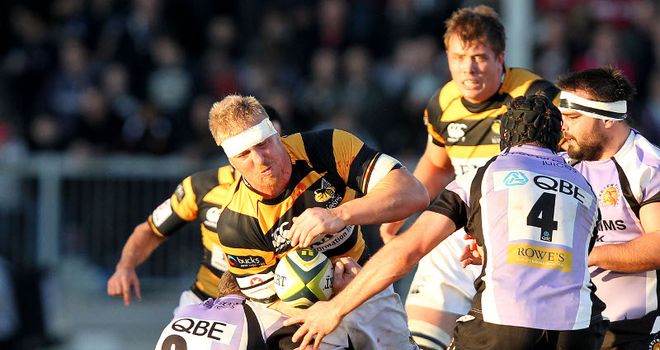 Powell: Claims he was 'kicked and punched by around 10 people'
Rugby Union Betting

Rugby Union Betting

Bet with Sky Bet
Suspended Wasps No.8 Andy Powell has claimed he was knocked unconscious after a vicious attack in a west London pub on Monday.
Powell, along with team-mate Tim Payne, has been banned by the Premiership club "pending an internal investigation" into the incident.
However the Wales international has insisted that he was left needing 10 stitches after he was "kicked and punched by around 10 people" and struck on the head with a bar stool during an altercation with football fans at The Walkabout in Shepherd's Bush.
Speaking to The Telegraph, Powell said: "I was knocked to the ground by a gang who then started to kick and punch me.
"It was pretty scary. I curled up into a ball and put my hands over my face and temples but couldn't cover the back of my head.
Blood
"I was then hit by a bar stool and lost consciousness after that but I suffered a pretty bad cut. There was blood everywhere. I think I lost around two pints of blood in the pub and was taken away in a wheelchair and then taken by ambulance to a hospital where they stitched me up.
"I needed at least 10 stitches but I am okay now. I am feeling sore all over, but it was just one of those things."
Powell, 29, claimed the incident occurred following some "banter" with some QPR supporters.
"A load of QPR fans came into the pub after their match and I think they heard my Welsh accent and started giving me a bit of stick," Powell added.
"We started singing a few songs and exchanging a bit of banter but then it all kicked off. I was asked by the police afterwards if I wanted to press any charges but I said I just wanted to forget about it and move on."