Hansen defends France selection
Conspiracy theories abound after draw opens up
Last Updated: September 21, 2011 8:38am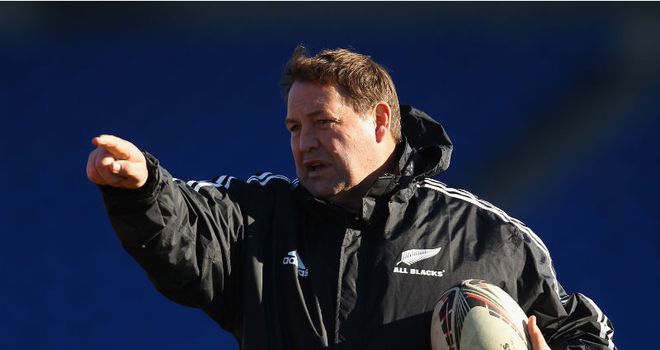 New Zealand assistant coach Steve Hansen has rejected suggestions in the local media that the France team selected for Saturday's clash against the All Blacks at Eden Park is a second-string outfit.
The front page splash in Wednesday's edition of New Zealand's biggest-selling newspaper the Herald, described the much-anticipated match as a "French Farce" and accused Les Bleus of fielding a "B team" for the game.
But Hansen insisted: "I think it's a really good team. Their coach has picked what he thinks is the best team for the tournament. We'll treat them with the utmost respect as we always do."
"We'd get hung from the highest tree in New Zealand if we go out and try not to win a test match, it's just not in our psyche."
Steve Hansen Quotes of the week
France head coach Marc Lievremont has been criticised for picking Morgan Parra, normally a scrum-half, at fly-half alongside Dimitri Yachvili.
But Hansen said: "You can say that it's the first time they've picked that combination, because that's a fact. But when we picked Ricahrd Kahui on the wing, everybody thought we were crazy. That hasn't turned out too badly.
"Who are we to suggest what is their best combination at halfback and first five for this test match?"
France's players were equally forthright. "The local press must have scandals to sell newspapers," said second row Pascal Pape. "It's all part of the battle. The best answer will be brought on the pitch on Saturday. But it did make me smile.
Motivates
"It is a lack of respect for the players chosen for Saturday. That motivates us more than it demotivates us. It is extra motivation."
Following Ireland's shock victory over Australia last weekend, which looks like resulting in all the Tri-Nations teams ending up on the same side of the draw in the knock-out phase, the report in the Herald suggested that France preferred not to win Saturday's match in order to finish second in the group and get into the half of the draw likely to contain northern hemisphere teams.
If New Zealand lose against France, they would end up in the 'easier' side of the draw, but Hansen said that for the All Blacks such maneuvering would be unthinkable.
"If you're suggesting we might underperform," he said. "We'd get hung from the highest tree in New Zealand if we go out and try not to win a test match, it's just not in our psyche.
"New Zealanders expect the All Blacks to go out and play their best every time they play, and rightly so."