Johnson wants Ashes payback
Fast bowler confident he has learned from his mistakes in England
Last Updated: 27/10/10 10:56am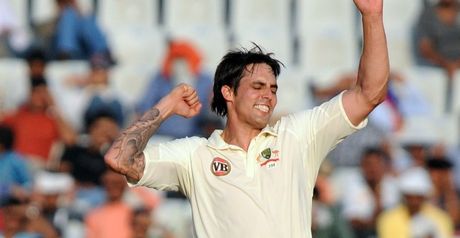 Johnson: excited about Ashes
Australia paceman Mitchell Johnson is keen to set the record straight against England in the coming months.
LIVE ON SKY SPORTS
Follow the Ashes live on Sky Sports HD, online and on mobile this winter. Sky Sports HD will show every ball of the Test and one-day series while skysports.com will provide up to the minute coverage including scores and text commentary, match reports, video interviews and highlights plus columns by Sky Sports commentators.
SKY BET ODDS
Mitchell Johnson is 9/4 to take the most wickets for Australia during the Ashes series.
Bet now
"There's been a lot of talk already, that build-up started pretty early on, so we're all ready and keen to go."
Mitchell Johnson Quotes of the week
The left-arm seamer's first taste of Ashes cricket in 2009 proved a humbling experience as, although he took a respectable 20 wickets at 32.55 in the series, England triumphed 2-1 on home soil.
Johnson is determined to get his mental approach right for the return meeting, which starts in Brisbane on November 25.
"Over there I definitely built it up in my mind," Johnson said. "It was a huge deal for me, like any young guy coming through.
Improved
"But look, I think I've learned that lesson now and I've experienced that and now I've adjusted to the pressures of, I guess, being a leader of the attack as well.
"So I'm looking forward to this series, it's something I'm very excited about."
Mentally fresh and raring to go, Johnson said it is definitely time for Ashes payback.
"We want to win, that's for sure," he declared. "We want to win the series and we're in our backyard now, we've got the wickets that we enjoy.
"There's been a lot of talk already, that build-up started pretty early on, so we're all ready and keen to go."
Having moved from Queensland to Western Australian at the start of 2008, Johnson is yet to play a match for the Warriors due to his international commitments.
But the bowler, along with Australia batsmen Michael Hussey and Marcus North, will all be on hand for WA as they take on South Australia in a Sheffield Shield game starting in Adelaide on October 29.
Practice
Having been a part of Australia's losing side in India, Johnson is keen to get some practice time on home wickets.
"We just came back from India where the wickets are pretty docile over there," he said.
"Just training this morning, the wickets are bouncing through, so you've got to adjust your lengths over here again.
"So I think it's pretty important that I'm having this game for the WACAs and to be able to work on a few things during that game, and hopefully get into a good rhythm and build myself up for the Ashes."