Dhoni doubts review system
Indian wants on-field umpires to take more accountability
Last Updated: 03/11/10 10:28am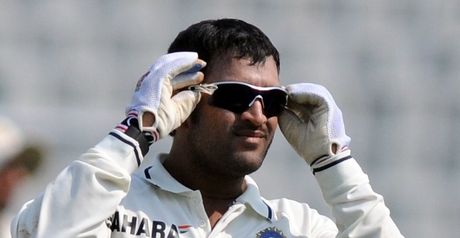 Dhoni: UDRS a hassle
Cricket Betting

Cricket Betting

Bet with Sky Bet
India captain Mahendra Singh Dhoni has admitted he is not in favour of the Umpire Decision Review System that will be in place for the Tests against New Zealand.
LIVE ON SKY SPORTS Follow the Ashes live on Sky Sports HD, online and on mobile this winter. Sky Sports HD will show every ball of the Test and one-day series while skysports.com will provide up to the minute coverage including scores and text commentary, match reports, video interviews and highlights plus columns by Sky Sports commentators.
"It is like I have to buy a life jacket but it does not come with a warranty."
Mahendra Singh Dhoni on the UDRS Quotes of the week
India have resisted the technology ever since their first brush with the system during their tour of Sri Lanka in 2008, when they got only one referral right compared to 11 by their opponents.
Some of India's players have expressed their support for the reviews but the majority, including star batsman Sachin Tendulkar, remain sceptical.
And Dhoni has called for the on-field umpires to 'step up' their performances to avoid continual referrals to the UDRS.
"There are two gentlemen standing on the ground as umpires," Dhoni said.
"They are professionals and paid to do their job. They have got support from the TV umpire. So it is surprising to see them making some of the mistakes.
"They have to step up and perform.
Warranty
"I have mixed opinion on the UDRS. It is not something that gives 100 per cent results. It is not always correct. It is like I have to buy a life jacket but it does not come with a warranty.
"That's a bit of a hassle for me, especially with the huge amount of money you have to spend to have the system in place.
"The moment it comes with a warranty, I am all for it. For now, they have to improve on the technology."
New Zealand captain Daniel Vettori said he would have preferred to have the technology in place for the three-Test series.
"I like the referral system," he said. "There are still a few hiccups with the technology, but I think it is good for the game if it is used consistently.
"Though the system requires to be perfected, it is a positive thing for the game."
The first Test gets under way at the Sardar Patel stadium in Ahmedabad on Thursday, with the other matches taking place in Hyderabad and Nagpur later this month.