Thunder rumble on
Top four clash goes to the hosts
Last Updated: 14/02/10 11:26am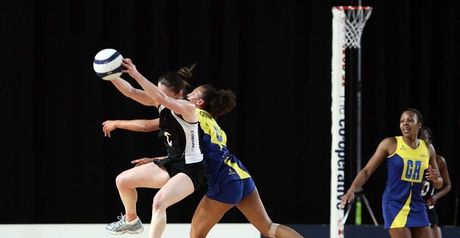 Northern Thunder went level on points with Hertfordshire Mavericks in the Co-operative Netball Superleague table after a patiently-produced 45-38 victory in Bury on Saturday.
Tips, trips and turnover ball made for a competitive clash for the third and fourth placed teams in the Superleague.
Kerry Almond was back in the GK bib for Thunder after recovering from a nasty ankle injury a couple of weeks ago and was cautious in the early exchanges.
Mavericks were fast out of the blocks and took the early initiative but as the first quarter progressed, the two sides matched up to each other and were almost even by the whistle - Thunder edged it by one.
No changes were made to Thunder's side in the course of the game. Player of the match Jade Clarke bossed the centre court but in the early exchanges had a real ding-dong contest with Laurelle Borck, until the Mavericks player was substituted due to injury in the second quarter.
Clarke and Bayman are looking sharp ahead of the international series with Australia. Thunder led 26-22 at half time.
The Hertfordshire side were forced into another change in the third period when Karen Atkinson collided with her England team-mate Sara Bayman. It made keeping tabs on Jade Clarke more tricky. Thunder used speed and patience to move eight goals up.
It was an advantage they maintained to the final whistle to go level on points in the league with a game in hand. Captain Karen Greig said they built the win quarter by quarter, "Jade Clarke ruled the centre court, and a short patient game proved the winner," she said.
For her part, Clarke insisted it was a team effort. "Everyone performed today. Mavericks are known as the comeback team but we didn't let them," she said."
Mavericks head coach Maggie Jackson summed up the match in six words: "Thunder played better than we did."