Super Solwhit to say Grace
Byrnes' Star set for Fairyhouse
Last Updated: 15/11/10 2:23pm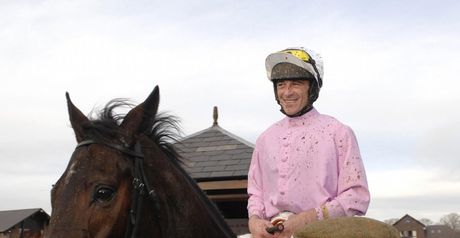 Solwhit: Hatton's Grace assignment next for Irish star
Solwhit's next assignment will be the Bar One Racing Hatton's Grace Hurdle at Fairyhouse on Sunday week following his comeback victory in the Dobbins & Madigans at Punchestown Hurdle.
Despite trainer Charles Byrnes expressing concerns over his fitness, he proved much too good for his three rivals at Punchestown to take the prize for the second successive year.
"There's not a bother on him on and we were delighted with him," said the County Limerick handler.
"It was a great start to the season with him and Fairyhouse is definitely the target if the horse remains in good shape.
"We'll check how he is closer to the weekend but, at the moment, the Hatton's Grace is very much on the cards. Two and a half miles should be fine.
"We'll take it one race at a time, but Leopardstown at Christmas would be the obvious place to look."