Turner benefits from congestion
Group One tonic
Last Updated: 10/07/11 2:03pm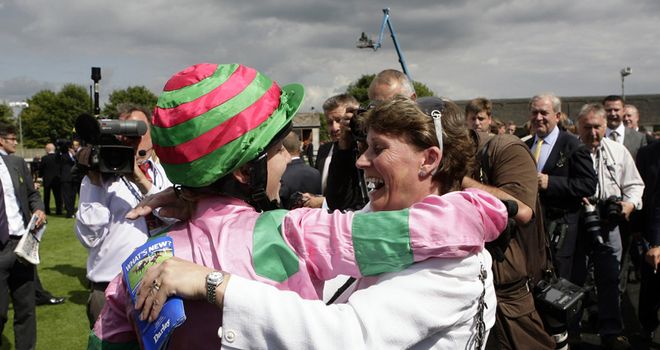 Hayley Turner: Surpassed Alex Greaves
Hayley Turner celebrated becoming the first ever British woman to win a Group One outright and said that fixture congestion had helped.
Despite being only third choice for the mount on Darley July Cup winner Dream Ahead, the 28-year-old former joint-champion apprentice acknowledged that she had got her opportunity due to there being so much racing at home and abroad.
And she only got the leg up for the first time on David Simcock's stable star in the parade ring ahead of Newmarket's summer showpiece.
But she made the made the most of the opportunity on a mount that both William Buick and Jamie Spencer had to turn down because of other commitments.
Having already been the first woman to reach 100 winners in a calendar year, her marginal improvement on Alex Greaves' dead-heat in the 1997 Nunthorpe Stakes confirmed her status on the top table.
"It was a fantastic day. Full credit to the Simcock team. I was lucky enough to pick up the ride and I hadn't actually sat on the horse before," Turner told At The Races.
"I'm thrilled I can tick it off the list now. I'm going to give my agent a ring now and tell him a Classic win is our next mission!
"Guy Jewell looks after me and a few of the other lads and he does a really good job.
"I just go with the flow. If you set too many targets you end up being disappointed. You have up and down days in racing. I'm just thrilled with the way its gone.
"I think I get a lot more publicity because I'm a girl. The lads are all doing similar things, but I'm thrilled about it all.
"The trainers have not been happy about the fixtures yesterday but it played into my hands a little but because there are only so many jockeys about."
Turner was delighted that Greaves, wife of North Yorkshire trainer David Nicholls, was at Newmarket to share in the moment.
"It was so nice. Alex came over and gave me a hug. She was so genuinely thrilled for me and it was really nice she was there," she added.(reopens) Turner has been attached to the Newmarket stable of Michael Bell since she was an apprentice.
Bell has always given Turner plenty of opportunities and was delighted with her landmark success.
"It was a great personal effort for her," he said.
"It was very good of David Simcock and Khalifa Dasmal to use her and give her a chance at the highest level and, like the postman, she delivered."