Turner playing it safe
Top jockey adopting cautious stance
Last Updated: 06/09/11 5:40pm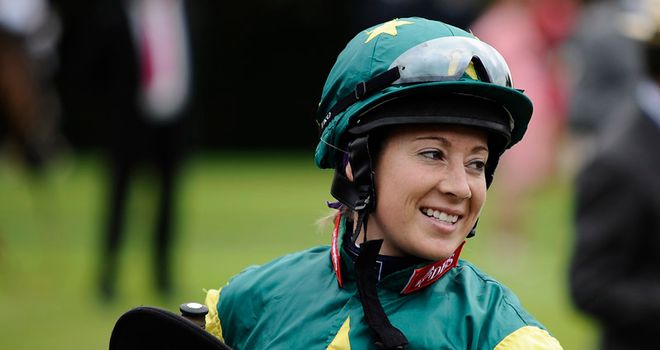 Turner: Recovering from a broken ankle
Hayley Turner will not rush herself back into the saddle after sustaining a broken ankle in a pre-race fall at Bath.
The dual Group One-winning rider could be out for between six to eight weeks after being unseated from Rose Aurora on the way to the start before a one-mile-five-furlong handicap last Wednesday.
Having had surgery, she hopes to have the cast off on September 20 and will then build herself back up to fitness.
Turner said on her blog on www.racinguk.com: "It could have been a lot worse - and that goes for the break itself, which was a clean one.
"It was my first ever break and there was no ligament damage or other broken bones so I've got nothing to really moan about, especially when you look at what the jumps jockeys go through.
"I've also had an amazing season with two Group One wins, and some really high-profile rides.
"I was told it would be six to eight weeks from the time of the injury to being back in the saddle, and I have an appointment on September 20 when hopefully the cast will come off.
"But I am not going to rush back and I want to make sure I am 110% before I'm race-riding.
"I know I am on 83 winners and it would be nice to get another century for the year, but I am not going to be overly worried if I don't get it.
"So, as to my plan for the rest of the year, I just want to assess my situation nearer the time."