Casey returns at Gowran
Injury plagued rider looks forwards to return
Last Updated: 29/09/11 4:12pm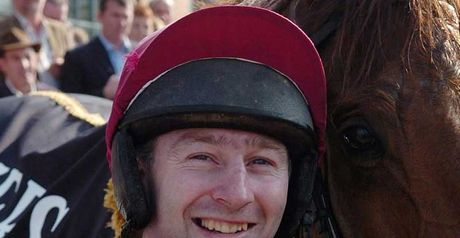 David Casey: Makes his return on Friday
David Casey is set to make his return at Gowran on Friday after missing nearly two months with a broken ankle.
The injury-plagued jockey, who has been out of action since early August, has one ride for Charlie Swan in the Freshford Handicap Hurdle on Jewel In The Sun.
"The cast came off two weeks ago but (orthopaedic surgeon) Paddy Kenny wouldn't let me back race-riding for two weeks," said Casey.
"I've been to the gym every day since, and I've also been riding out a few days at the Curragh for James Nash and done a couple of bits of work for Willie Mullins.
"I've not been able to do a whole lot over the last few months. With the cast and the crutches, your two arms are gone and your leg is gone. But then a couple of weeks ago they redid the cast and I was able to put a bit of weight on it, so that gave me a bit more movement.
"I decided not to go away on a holiday as it was going to be very uncomfortable. I was fairly bored for a few weeks.
"The most important thing is to get back going and build on it from there. Hopefully I can get back riding a few winners."