Grandouet misses Kingwell
Racecourse gallop now plan for sidelined star
Last Updated: 17/02/12 10:26am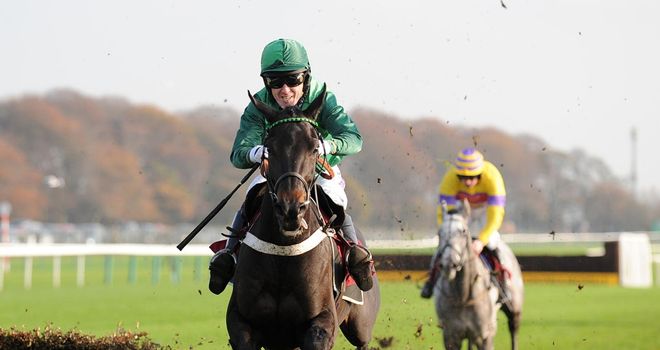 Grandouet: Suffered small setback and now likely to have racecourse gallop
Grandouet misses Saturday's Bathwick Tyres Kingwell Hurdle at Wincanton because of a small setback so stablemate Binocular now runs.
The latter was expected to head straight to the Stan James Champion Hurdle at the Cheltenham Festival, taking in a racecourse gallop at Newbury on Friday along the way.
However trainer Nicky Henderson said on Friday morning: "We've had a slight change of plan with the Kingwell Hurdle at Wincanton on Saturday.
"Grandouet has unfortunately gone and banged a hind leg in his box overnight and can't run, but he's perfectly all right and he's just had to have some medication to clear it up.
"Hopefully he'll be perfectly all right in three or four days time, the timing of it is just unfortunate.
"Consequently, Binocular, who was going to work after racing at Newbury today, is now going to run in the Kingwell.
"He was literally going to work soon after the last race, but it seems we might as well go and have a gallop round Wincanton and try to pick up some prize-money.
"Nobody wants hard races at this time of proceedings. The two horses are now going to reverse roles and Grandouet will probably go for a racecourse gallop somewhere."