Hartani on trial at Curragh
Trainer Oxx believes stamina will be crucial
Last Updated: 17/08/12 10:25am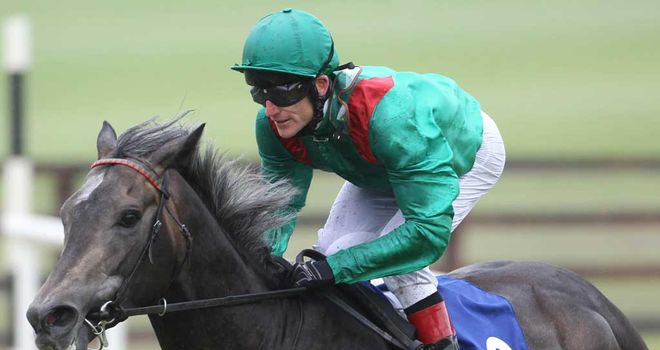 Hartani: Faces Curragh test
Hartani will test his Ladbrokes St Leger credentials at the Curragh on Saturday week.
The John Oxx-trained colt was unraced as a two-year-old but is quickly making up for lost time, winning his last three from four career starts.
The latest of those came in a Group Three over the Leger trip at the Curragh last month.
He will now take the next step to Doncaster in the Irish St Leger Trial.
Oxx said: "He could be taking on some older horses but he will have to win if he was going to travel to Doncaster.
"He has done well and is ready now for an autumn campaign but where he goes will be determined in some respects by next weekend.
Gruelling race
"We thought he could win at the Curragh and he probably won easier than we thought, but the conditions were very tough - the ground was very heavy - and he handles that well.
"He won a decent race on quicker ground on his third start but it wasn't at the level he will be running at from now on.
"He has a great temperament and is very tough and genuine.
"I think his attitude is his strongest point."
Oxx concedes the Triple Crown-seeking Camelot will be extremely difficult to beat in the Doncaster Classic, but feels his horse has stamina in his favour.
He said: "It will be very hard to beat Camelot - it looks set up for him - but, then again, the Leger can be a tough and gruelling race and it depends on how strong the pace is and how the race unfolds.
"He could be found out for stamina if there are enough strong stayers in the race but he does look tailor made for it."